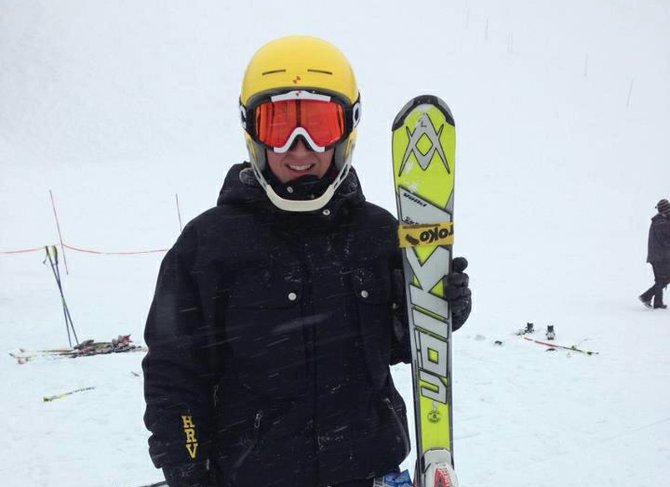 Hood River Valley High School junior Korey Cimock claimed the girls combined title last week at the 2013 Oregon Interscholastic Ski Racing Association state championships.
With near-perfect racing conditions at SkiBowl, Cimock blazed to a second-place finish in Thursday's slalom action and was third overall Friday in giant slalom. Her two-event time was the fastest on the mountain, giving her top honors as the combined state champion.
For the rest of the HRV squad, it was a tale of two teams. On the girls side, Cimock was backed by solid runs from the entire group to finish the event third overall as a team. Molly Clark and Sadie Shepard rounded out the top three finishers for HRV in both events. The boys, on the other hand, were plagued with crashes and were unable to come up with a noteworthy team finish in either event. Freshman William Lamer led the boys with a 10th-place finish in slalom action, while Ryan Colesar was top for the team in GS at 38th.
"The boys just didn't have a great state," coach Scott Keillor said. "We had some crashes and we lack depth on the boys team to overcome that. Depth is something we're going to look to build on between now and next season. The girls, on the other hand, had a fabulous two days of racing. Korey has been consistent all year and my hat is off to her. And a third-place finish for the girls team is a great result. All of the girls stood up for all four runs. They rallied together to get the result they did."
The girls team was third behind Ashland in first and Jesuit in second in combined standings. As a testament to how close the competition was, the top two teams swapped first and second place in slalom and GS racing, but Ashland's combined total time was a mere .39 second faster than Jesuit. HRV's total time was 14.5 seconds behind that.
"With as tough as the competition is at state, you really have to be consistent," Cimock said. "Anything can happen. You can have the skills to win, but one little mistake can mean a big difference in how you end up. I was consistent; that's how I won."
Cimock's two-day, four-run time was 3:37.84 — the fastest in a field of more than 100 racers and nearly four seconds faster than the second-place skier, Megan Ganim of Ashland. On a course that is steeper, longer and more difficult than those for league races throughout the season, Cimock got the luck of the draw in starting order for both racers. As HRV's top-seeded racer, she drew the first start for slalom and the third for GS.
"Conditions were perfect and running early is an advantage because, as more racers go down the course ruts develop, and that generally means slower times," she said. "Last year I didn't do very well; I psyched myself out too much. This year I was calm and relaxed and I felt much more prepared. I devoted a lot more time to athletics, training and goals this year. I had the goal of winning state in my mind all season and I worked hard to accomplish that."
Clark and Shepard, both seniors, finished 14th and 22nd overall to contribute to the girls' third-place finish. Although several skiers from each team race at state, only the top three finishers contribute to team scoring. That's where the HRV girls depth paid off.
"All of the girls had probably the best runs of the season," Cimock said. "Everyone raced really well and we were all involved in the result that we got. It was a great team effort."
A highlight for the boys team came from Lamer's 10th-place slalom finish on Friday. His combined result is unlisted because of a second-run crash and DNF in the GS the day before. As a freshman, Lamar is expected to be a leader on a team that Keillor hopes will gain momentum with numbers and depth.
The HRV boys were led in combined standings by senior Ryan Colesar, who was 45th out of more than 100 racers.