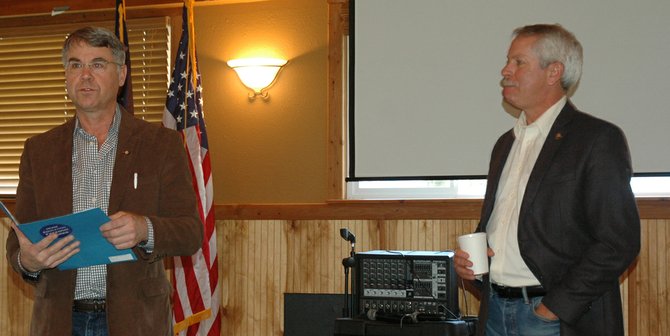 CASCADE LOCKS —Chuck Thomsen and Mark Johnson of Hood River held their first joint town hall meeting Thursday at the Port Pavilion Building, a gathering attended by 25 people.
Johnson and Thomsen, both second-term Republicans, reported an increased sense of urgency in Salem, from Gov. John Kitzhaber to both houses of the Legislature, to address the fiscal crisis known as Public Employee Retirement System (PERS) reform.
"We have to do something. It's not sustainable," said Johnson, the House District 52 representative.
(On Monday, Democrats put forth an $800 million PERS reform package that, according to The Oregonian newspaper, appears to be the only plan supported by Democratic Party, who hold a 36-24 majority in the House.)
"PERS reform relates to how we're going to fund everything else," Thomsen said.
Thomsen, senator for District 26, reported that Legislative leaders are working hard to meet an April 1 deadline to give Oregon districts a projected school funding package it can use in preparing budgets for 2013-14. Currently, the amount rests at $6.2 billion, about $1 billion more than the current biennium.
Said Johnson, "We could make a choice to not change a thing (with PERS), but the question is, 'at what cost?' What will be the net effect on the state if we do that?
"That's where the governor has said we have to do something now because it's not sustainable, because of the net effect on public education, services and health care.
Merkley schedules town hall
U.S. Sen. Jeff Merkley will hold a town hall April 5 at Hood River Valley Adult Center, 2010 Sterling Place, on the Heights.
The event starts at 3:30 p.m. Merkley plans to give a legislative update and answer questions and take comments.
"The state could become a state anyone would enjoy living in. That would become a real eye opener."
Johnson said that on PERS, what still challenges Salem is "wrapping our minds around it" and figuring out what is the problem.
"The impact of increases in PERS over the last six years has become not just problematic but made it very difficult to provide quality education," he said.
"The increase in PERS rates has not been matched by any increase in funding for the school support," said Johnson, who is a member of the Hood River County School District Board of Directors, and is running unopposed for re-election on the May 21 Special Districts ballot.
"So we actually have less real dollars to deal with now, and the PERS problem stems from an unfunded liability that exists within PERS itself," Johnson said.
He noted that current PERS shortfall stands at $16 billion, and state agencies will lose another $900 million over the next two years if the PERS system is left unaffected before the new biennium starts July 1.
"In order to pay the (PERS) benefits — all things remaining equal with no reforms happening — you need (a certain) amount of money in the next 20 years as you try to amortize what the obligations are for recipients in the system now, and are likely to come," Johnson said.
The legislators explained that under current law, the state PERS board was required to increase by 6 percent the rates paid by employers, such as school districts, two years ago, and will enact another 6 percent increase in July.
"If nothing happens between now and July there's another $900 million that will come out of the public sector: cities, counties, schools, public health and safety, higher education."
The core of the problem is that compared to Washington and other states, Oregon has a similar PERS liability, but half the number of people paying into it.
Johnson said most of the current PERS reform ideas have had "extensive judicial review, and they look like they will stand up.
"Anything passed will be challenged in court, but we can't let that deter us from doing something," Johnson said.
"For the sake of sustainability, and the fiscal impact, we have to find a way to meaningfully reduce PERS liability in the next biennium."