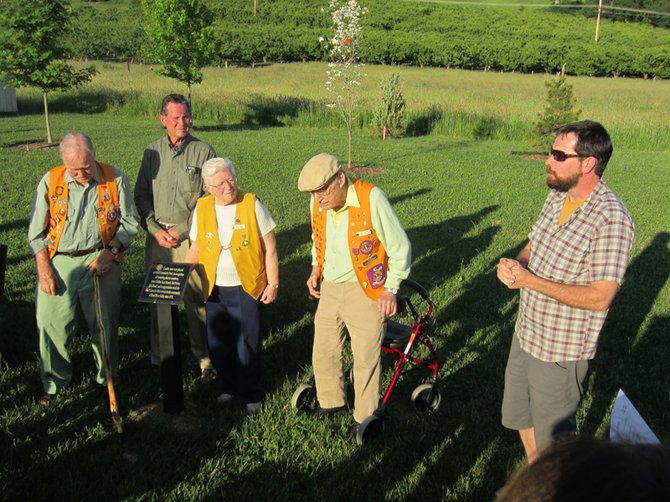 The Odell Lions Club met May 9 at the Odell Community Park to pay homage to remaining Charter members Ken Raasch, Arnie Udelius, Bob Hanel and Ted Weber.
The club presented four conifer trees and a plaque to honor the four who, in 1971, were part of a group of 50 original members.
The idea for the tree dedication came when Lion Art Carroll, after a visit with Weber, realized that only four charter members were still alive. When International Lions Club President De Wing Tam of China promoted planting three million trees last year, Carroll knew how to honor his fellow club members.
The Odell Lions formed a partnership with the Hood River Parks Department to plant the two spruce and two juniper trees at Odell's only park, and to install a dedication plaque.
"The trees are symbolic of the four remaining Lions, who in turn represent all former and current Lions in our motto 'We Serve'," said Carroll in an address to those gathered for the ceremony, including Raasch, Udelius and Hanel. Weber was represented by his wife, Lion Verna Weber.
"We acknowledge and commemorate all the community service by Odell Lions members over the last 42 years."
Scott Baker, assistant director of the Hood River Parks District, attended to accept the landscape donation from the Lions.
"The trees represent the spirit of the work the Lions do, and the Parks District has a similar mission to serve," said Baker.
After the dedication, Lions members had dinner and time to reminisce at the Kemp Odd Fellows Lodge in Odell, at Summit and Wy'east roads.
The four recalled holding the first club meetings in the Odell United Methodist Church basement; the beginning of what evolved into the annual Lions Follies in 1977 with an adults-only talent show; the club's many years of Applerama events in the Portland area, and donating food commodities to the poor.
The evening ended with a surprise — Verna Weber had found four Lions Charter Member pins in Ted's belongings, and gave them to the club who in turn presented them to the original members.
The Odell Community Park is located off of Midway Road.