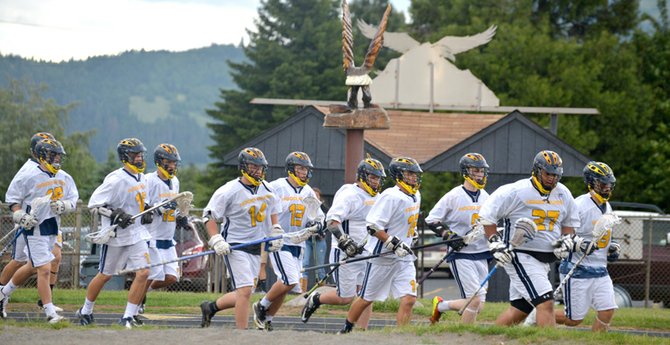 Hood River Valley High School varsity boys lacrosse team had heavy weight to shoulder going into Monday evening's home game against Wilson. In the last game of the regular season, the Eagles, fighting for fourth place in the league, not only had to win to qualify for the state playoffs, but had to score six goals or more while keeping the Trojans to two goals or less.
Satisfying those factors would have placed the HRV boys at fourth in the Columbia League and given them a play-in game for the 2013 Oregon High School Lacrosse Association championships. Anything less would mean an end to the season.
The Trojans (3-3 league), took revenge from an 8-6 loss to HRV earlier this season with a 10-4 win that put them in a first-round playoff game against High Desert league's No. 3 finisher, Sisters.
Monday's situation looked grim after a first-quarter score of 2-2, with both HRV goals coming from senior midfielder Jesse Lee. A rare scoreless second period for both teams gave the Eagles a glimmer of hope going into halftime, but keeping Wilson scoreless for the entire second half was a longshot at best.
Wilson came out firing in the third quarter and, after denying three HRV shots-on-goal, took the lead with a worm-burner that struck goalie Joey Hall's shin on its way into the net.
With chances of a post-season out of the picture, the scales tilted and the match quickly went the way of the Trojans.
Despite a solid defensive effort, Hall took a beating in the rest of the game as Wilson, having just earned itself a spot in the playoffs, hammered the frustrated HRV lineup to the tune of eight unanswered goals. Marcus Crouch and Forrest Brodie each had a goal in what would be the final minute of the team's season to end the game on a positive note for the Eagles.
Alumni game, barbeque:
The annual HRVHS lacrosse alumni game is scheduled for Saturday, June 15 at HRVHS. Youth contests for a variety of prizes will start at 5:50 p.m. and the game that pits current HRV players against alumni starts at 7 p.m.
Summer camps:
A youth camp for players grades 1-8 will run June 17-19 at HRVHS. Times are 9 a.m. to noon and 1-4 p.m. each day. For info or to register contact Tara Henderson at tara@thehendoinc.com.
A June 22 camp for incoming high school players brings the return of HRHVS alumni Ian Bohince, former Western Oregon University midfielder, four-time MCLA All-American, two-time PNCLL Offensive Player of the Year, as well as other college-level players. The all day camp will be $70 per player. Contact Bohince at ibohince@gmail.com for info or to register.