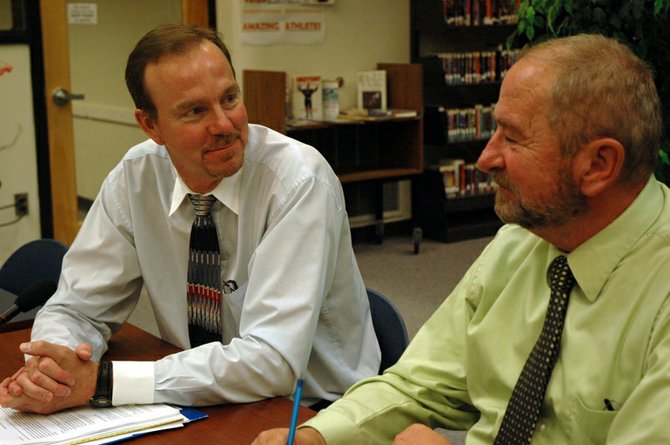 Nick Hogan has established roots in Hood River in his 10 years with Hood River County School District and hopes to remain in the community.
Hogan announced his resignation this week as finance director of the school district, following a spring in which he weathered criticism over his handling of district finances.
"I have come to truly love this community and it's my hope to explore other opportunities to remain here," said Hogan.
In March it was revealed that the district budget was facing a shortage of $1.4 million, a fact which Hogan acknowledges he failed to communicate with the rest of the district administration and the school board.
Hogan said of the budget shortage: "It was caused by having expenditures in excess of revenue. Had we realized the extent of the difference earlier we probably would have made budget reductions at the start of the school year. The effect of delaying these reductions is that we kept staff in classrooms longer than we should have."
Hogan said he wishes he had done a better job of communicating this to the rest of the district.
"There was a lot of misinformation out there," said Hogan, who will work through June 30.
"There was an over-expenditure, and a lot of confusion," he said. "The short answer is that the fallout from that and the difficulty in trying to deal with that, I decided it's an uphill battle here.
"The confusion around this year's budget process has stressed my relationship with some of the other administrators to the point where it has become difficult to be a contributing member of the district's administrative team in the current environment," Hogan said. "If I can no longer make a positive difference here, I need to find a place where I can."
In an interview Wednesday, Hogan criticized himself for his role in what he feels was poor communication in the district over finances. Yet board chair Jan Veldhuisen Virk called Hogan "an amazing communicator" and was among the district officials to praise Hogan for his work during Monday's school board meeting.
"Nick has been an excellent professional member of our district and for 10 years he has had an excellent record," Virk said. "I am truly sorry."
Hogan said, "There was obviously no intent to deceive or hide and that came out right away, but some of them continued to believe that if had I caught the over-expenditures earlier, we would not be cutting anything today, which is completely inaccurate; but some of them believe that, and as long as they believe that, it is hard to be an effective member of the team."
Hogan's departure adds one more leadership gap for incoming superintendent Dan Goldman to deal with starting July 1, when he succeeds Supt. Charlie Beck. Curriculum Director Penny Gotting is moving to the Education Service District, and at Hood River Valley High School, Principal Karen Neitzel and Assistant Principal Todd McCauley are leaving the district for other jobs.
"This year there were some unfortunate circumstances that occurred that made Nick feel he couldn't be effective in his current capacity," Virk said.
Beck told Hogan in Monday's meeting, "You've worked with board members, community members and staff. It will be a big loss to lose Nick. I certainly wish him well in his future endeavors, and thank you Nick for your work and your willingness to help me and the rest of the cabinet as we've worked through some difficult situations," Beck said.
Board member Bob Danko said at Monday's meeting, "Tonight's budget meeting was a good example of the work Nick does under very tight time frames. He produces quality work, all the time," referring to Hogan's retooling of the proposed 2013-14 budget between May 12 and May 20 after the district learned it would receive $2.1 million in unexpected revenue in the next two years.
Hogan said, "The main thing is, school district finance is more volatile than most people realize," noting that in the over-expenditure matter, he was cleared of any wrong-doing following a review of district finances by consultant Dr. William Dierdorff.
Yet, Hogan said, "Some people believe the current budget shortage was caused by this over-expenditure, which is inaccurate.
"One of Dr. Dierdorff's findings is that I ended up acting as pretty much an island of finance, and long-term, he said, that does not work," Hogan said. "It wasn't by design, I think, but over time I ended up playing a larger and larger role in the finances of the district, and he pointed out that it needs to be more of a team effort."
He declined to specify with whom his relationship had irretrievably broken down, but when asked, "What is your relationship with Charlie Beck?" he answered:
"Supt. Beck is a member of the administrative team ... we think highly of each other. He understands budget more than some of the other administrators. School-level administrators don't actually have a lot of experience in budget. Once a year they review the budget with me and we try to figure out the budget.
"Some of the school administrators, specifically, believe that the 2011-12 over-expenditures caused the current budget shortage. I've explained several times that's not the way it works. Spending more than we make caused the over-expenditures, and spending more than we make is causing the current budget shortage, so they're related, but that didn't cause this.
"Charlie is more aware of that then they are. It would be normal practice ... no finance director should do the job alone. One needs to make sure that more administrative team members are more involved in the process. No one person should ever …" he paused "... attempt to run it independently, even it if wasn't on purpose."
Hogan was asked, "But the shortfall was there, so whether it happened last year or now, maybe they have a point?"
Hogan replied, "Had we realized it earlier, we would cut a year ago. It would not have gone away. We would have scaled back programs more than we did. We did significant reductions for the 2011-12 school year.
"During 2011-12, I realized those reductions weren't resulting in quite the savings I had expected, and we had several other areas we were overspending," he said. "Had I realized that sooner during 2011-12, we probably would have made some reductions for the 12-13 school year. In '12-'13 we didn't make any reductions. The reductions we're making now, for next year, we probably should have made for this year."