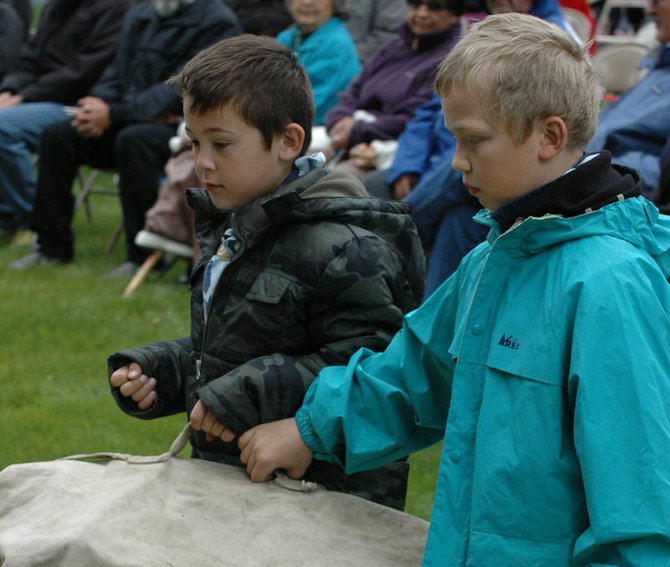 A drizzle moistened Monday's Memorial Day observance, not enough to drive away the congregation, as evidenced by the 300 or so attendees at the Idlewilde Cemetery event.
Music by Andy Streich and the HRVHS band and choir highlighted the occasion, along with presentation of wreaths and reading of new names on the Veterans' Walk of Honor. Sexton Bob Huskey spoke passionately about honoring fallen veterans every day.
But on this day, the rain embellished the raw details in the poem "Sea Bags in the Rain," by R.B. Gentry, read by Scoutmaster Nick Kirby.
Cub Scouts solemnly brought forth duffel bags as Kirby read the poem, which speaks of a soldier's thoughts on "rows and rows of duffle bags stacked beneath the rain" and the memory of the men who carried those bags in service to their country. Gentry's poem reads in part,
"It is the plight of warriors to leave before their time,
"Dying on foreign battlefields caked with mud and grime.
"Broken hearts, mangled limbs and bodies wracked with pain;
"And all their meager possessions stowed in duffle bags wet from rain."
Huskey told the crowd, "Thank you for your support of our veterans, God bless our veterans, and all of those still serving our nation."
He encouraged everyone to make active remembering a daily practice, thanking the veterans for "continuing to share the stories of your service and, most importantly, sharing the stories of all those who make the ultimate sacrifice."
He noted that federal defense budget cutbacks have limited the participation by color guards, aircraft flyovers, and other elements of Memorial Day services.
"They have taken away from the proper honors to our nation's fallen," he said.
As a result, he said, "The responsibility of remembrance falls on us, not just the American Legion or the veterans organizations, not just those serving in uniform, but every man, and woman and child who woke up this morning in the land of the free, that is our obligation. "Remember the fallen in the manner befitting their sacrifices is not a luxury. It is our solemn duty. "
"As we honor the fallen this Memorial Day let us remember the symbolism of the flag code: the flag is flown half mast from sunrise until noon, then flown to its peak until sunset. "Halfmast is to honor all of those who have given their lives in service to our nation, and then it would be flown high on the pole for a nation that would defend it that lives on."