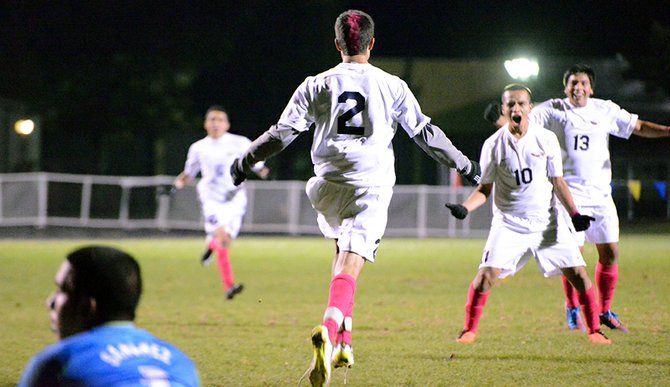 Talk about going out with a bang …
The Hood River Valley varsity boys soccer team ended its regular season Tuesday evening with a commanding 5-0 win against The Dalles-Wahtonka. The home game — preceded by a senior night ceremony to honor Quique Rueda, Joel Aberg, Brian Manzo, Fabian Munoz, Armando Hernandez, Rogelio Lachino, Jorge Lachino, Tuan Nguyen and Edgar Villegas — put an exclamation point at the end of a six-game Columbia River Conference schedule that saw the Eagles average five goals per game while outscoring their opposition 30 to 1.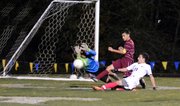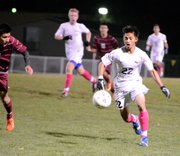 With a final 5A ranking of No. 4, the team is among the top eight to automatically qualify for the first round of the 16-team state playoff bracket. Tuesday's win, along with results from some other games around the state, bumped the Eagles from No. 5 to No. 4 before the rankings were frozen Wednesday night. The ranking gives Hood River home field advantage for the first round and likely the quarterfinal round of the playoff tournament.
The team hosts the winner of a play-in game between Madison and Parkrose Tuesday, Nov. 5, 6 p.m. at HRVHS's Henderson Community Stadium. Prior to that, however, it played an endowment game at home Friday (4:30 p.m., HRVHS) against Cleveland (5A No. 5) in what could be a preview game of the quarterfinal round, assuming both teams win in the opening round. Results from that game were not available as of press time for this issue.
The only other Columbia River Conference team to make the playoffs was Hermiston, which finished with a No. 19 ranking that put them into a do-or-die game at Putnam. Pendleton finished 0-6 in the league and No. 36 ranked and The Dalles just missed a play-in game with a No. 25 ranking.
Despite near-freezing temperatures, Tuesday's game against the Eagle-Indians drew a sizable home crowd, and after a slow start, the Eagles did not disappoint. Alex Gutierrez scored the only first-half goal with about seven minutes remaining, off a corner kick that ricocheted around the goalie box several times and eventually slipped past TDW goalie Bryan Sanchez.
To his credit, Sanchez had several excellent saves to keep his team in the game through the first half. In the second, however, a relentless HRV attack started to wear down the TDW defense, and the Eagles capitalized. Joel Aberg upped the lead to 2-0 off a perfectly placed header from about 25 yards out, crossed from the far left wing by Tuan Nguyen.
Nguyen gets credit for setting up HRV's third goal with another left-side drive that put TDW's defense on its heels. A shot deflected by Sanchez found the foot of Armando Hernandez, who connected with a rocket of a shot from about 30 yards out. Sanchez again made the save, and Gutierrez found the deflection and the back of the net for his second goal of the night.
Fabian Munoz connected with Jaime Frias to make it 4-0 off an inside chip and header amid a frustrated TDW defense, and another header by Oscar Munoz made it 5-0 with a minute remaining.
With three of the five goals scored off headers, coach Jaime Rivera says the strategy of practicing unpressured offensive drives, center balls and corner kicks is paying off.
"We've been working a lot in practice on the fundamentals of attacking," Rivera said. "And I think Tuesday was evidence of how important those fundamentals are."
Defensively, the back line gets credit for its eighth shutout of the season. The Eagle-Indians managed a few scoring opportunities, but were promptly shut down by a crew that has allowed only ten goals in 14 games — the third-best in the state behind Cleveland (7) and Marist (9).
With 15 minutes left in the game, Rivera changed his lineup around so all nine seniors could play together in front of their senior-night audience.
"Not all of our seniors are starters, so I wanted to give them a chance to play together at the same time," he said. "I'm really glad we did that. It was cool to see them perform so well together. Our seniors have shown such great leadership all season; it's really cool to see how respectful and attentive and focused these kids are. They're setting an example for our younger players that is going to continue long after they are gone."