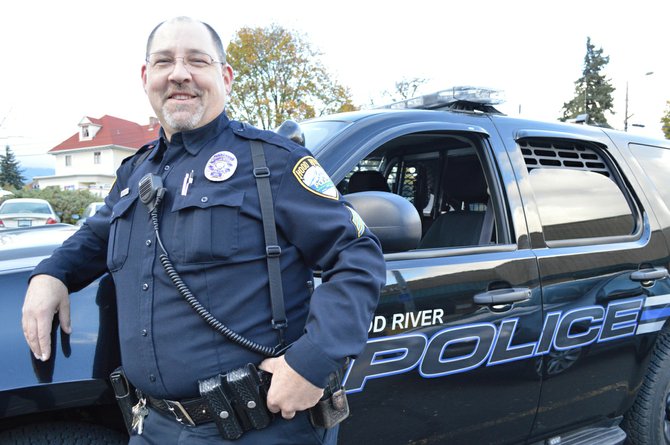 Andrew Rau, patrol sergeant with Hood River Police Department, did not plan to go into law enforcement. But, with 22 years of service, he's the senior-most member of the department, having been hired in July 1991. He's spent nearly his entire career in law enforcement in Hood River, and here he plans to stay.
Rau is originally from Shelton, Wash. ("known as Christmas Town, USA, for shipping masses of fresh Christmas trees and wreaths around the world," he added), graduating from the town's high school. While he has lived in multiple places over the years, he's chosen to stay in Hood River because of his daughter, Tricia.
Rau's father worked for the Forest Service as a silviculturist (planting and growing trees), often transferring between national forests. As a result, he moved around a lot while growing up.
"I made the commitment to our daughter, that she'd have a hometown and grow up in one place because I didn't get to," he said.
Rau held numerous jobs before applying for a position on the Hood River Police Department, most of them Forest Service-related. He spent summers working for the Forest Service, sometimes being sent to fires "like everyone in the Forest Service." He was a member of an engine crew for the Mt. Hood National Forest in addition to his other duties.
He also worked as a cook at the Alderbrook Inn and Resort on the Hood Canal in Union, Wash., and for the Washington Department of Ecology as a crew supervisor, primarily on the Hood Canal Ranger District in the Olympic National Forest.
He spent some time in Canby, Ore., working as the assistant manager at IFA Nurseries Inc., a seedling nursery growing trees for reforestation. And that was when he met his wife, Crystal — with help from his matchmaking grandmother.
"Grandma had a beauty shop, and she used to do my wife's mother's hair and my wife's hair," said Rau. Although he had left his position at the nursery, "Grandma got to talking to Crystal and found out she was single," he said. A set-up soon followed. "The first time I met her she had rollers in her hair."
It was through the Forest Service that Rau got his start in law enforcement. From there, he applied to both the Oregon State Police and the Hood River Police Department. Hood River was the first to respond. With a child on the way, "I was happy to have a job with benefits," he said. And so, in 1991, he and Crystal moved to Hood River.
Rau began his career with the Hood River Police Department as a patrol officer. Other responsibilities in his tenure have included gang enforcement officer, firearms and use of force instructor.
As patrol sergeant, Rau enforces traffic and criminal statutes and fields citizen complaints in regards to criminal or driving issues they witness. He handles internal complaints and supervises patrol staff. He is one of three on-duty supervisors in the "off hours," as he generally works nights, weekends and swing shifts. He also oversees department training.
"I'm charged with making sure guys are getting the required training through the Department of Public Safety Standards and Training because they have to maintain their certificates," he explained.
For an officer, training never ends. All officers must have 84 hours of general police training every three years, with 24 hours dedicated to use of force and defensive tactics training. For those with supervisory certificates — like Rau — an additional 24 hours are dedicated to leadership training.
Rau has his police supervisory certificate and is eligible for his mid-management certificate through DPSST.
Rau has attended Columbia Gorge Community College, Chemeketa Community College, Clackamas Community College and Portland State, as well as the Police Academy in Monmouth. Sometimes, however, Rau's training has been interrupted.
In 2008, he was attending the International Public Safety Leadership and Ethics Institute at the Police Academy in Salem — a training program held over the course of a year — when Crystal contracted bacterial meningitis and ended up at OHSU (she was in a coma for seven days and in recovery for a couple of months afterwards). Training took a backseat to caring for Crystal.
"It was important to take care of her first," he said, adding that he was able to go back and finish the course at a later date.
Rau likes to talk about the police department's role in the community, although it's harder to get him to talk about his own accomplishments. The police department works with the warming shelter and has a good working relationship with many area service organizations.
Officers also work with driver education students at the high school, and spend time with children at May Street Elementary at lunch time throughout the school year; "although I'm not as involved in that because people aren't around as much when I'm awake," he explained.
For his part, he's fixed many flat tires while on patrol, and has even mowed a few lawns for elderly citizens. One of his favorite stories takes place right after the seat belt law first went into effect and people weren't used to wearing them yet, he said.
He stopped a gentleman and his wife, both of whom were not wearing seat belts, and issued them citations. Within the month, they were involved in a vehicle crash that flipped their car over — and they would have been killed had it not been for the fact they were wearing seat belts.
"When I got on scene, she hugged me and thanked me" for issuing the citation, he said, "because she wouldn't have been wearing her seat belt otherwise."
Rau has three and a half years until retirement, and he plans to spend that time in Hood River. He enjoys the valley's close proximity to recreational activities, as well as its nearness to Portland.
His wife and daughter have roots here, too. Crystal works at a local body shop as an office manager, and Tricia has just been hired at the Port of Hood River and works full-time in the office. She's working on a degree in agriculture with a minor in business from Eastern Oregon University, although, with her new position, she's put that on hold.
"Her intention is to finish her degree," Rau said. "She's developing her career sense. I'm very proud of her."