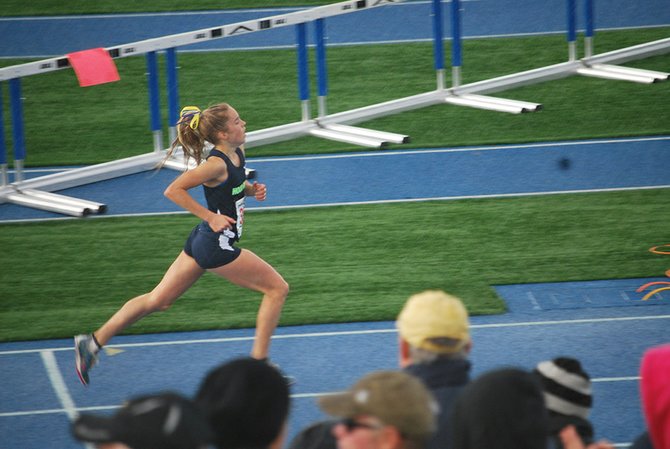 State highlights
5A girls top 5:
1st: Summit, 33 pts.; 2nd: Mountain View, 81 pts.; 3rd: Corvallis, 93 pts.; 4th: Cleveland, 122 pts.; 5th: Hood River, 146 pts.
HRV girls
Sascha Bockius, 6th, 19:00; Lauren Robinson, 33rd, 20:36; Daisy Dolan, 35th, 20:41; Sophia Marble, 35th, 20:43; Kailee McGreer, 58th, 21:53; Denali Emmons, 63rd, 22:04; Althea Dillon, 65th, 22:16
5A boy stop 5
1st: Summit, 38 pts.; 2nd: Mountain View, 64 pts.; 3rd: Hermiston, 78 pts.; 4th: Cleveland, 133 pts.; 5th: Marist, 147 pts.;
HRV boys
Ricardo Castillo, 28th, 16:50; Justin Crosswhite, 62nd, 17:35
In a repeat of last year's standings, Hood River Valley High School varsity girls cross country team finished in fifth place Saturday at the Oregon 5A State Championships. The Eagles had nine runners in Eugene for the race — seven varsity girls (Sascha Bockius, Lauren Robinson, Daisy Dolan, Sophia Marble, Kailee McGreer, Denali Emmons and Althea Dillon) representing the Columbia River Conference championship team and varsity boys runners Ricardo Castillo and Justin Crosswhite, who qualified for the race individually.
With Summit High School junior Matthew Maton and sophomore Hannah Gindlesperger setting state championship paces of 14:59 and 17:53 respectively, the rest of the 5A runners were in chase mode on the 5K course set on the campus of Lane Community College. As was expected, Summit boys and girls teams won state titles handily, while Maton finished 51 seconds ahead of Hermiston's Jose Macias in second and Gindlesperger was 44 seconds ahead of teammate and runner-up Olivia Brooks.
Putting in the fastest time for the Eagles was Ricardo Castillo, who finished in 28th at 16:50. Castillo, a senior, qualified for the state race by finishing fourth at last weekend's CRC championships. Crosswhite, a sophomore, finished fifth at the same race to secure a trip to state. At 17:35, Crosswhite was 62nd in the field of 94 runners at state.
On the girls side, Bockius lived up to her high expectation with a sixth-place finish in a time of 19 minutes flat. Robinson was second for the Eagles in 33rd (20:36), followed by Daisy Dolan in 35th (20:41), Sophia Marble in 36th (20:43), Kailee McGreer in 58th (21:53), Denali Emmons in 63rd (22:04) and Althea Dillon in 65th (22:16) out of 90 runners.
"All in all I think it went really well," said coach Kristen Uhler, who was recently named CRC girls cross country Coach of the Year for a fourth consecutive year. "We were hoping to get the girls team on the podium (fourth or better) but didn't quite make it."
Bockius accepted her sixth-place medal from the podium with a smile, representing a successful end to a breakout season for the sophomore.
Last year's 5A girls state champion, HRVHS senior Grace Grim, has been out all season recovering from a leg injury. She ran in a couple races early in the fall but had leg pains that prevented her from running most of the season. Uhler said Grim is hoping to run track this spring and is looking to run at the college level next fall.
"I know Sascha was feeling the pressure of it all," Uhler said. "She overcame that and ran exactly what she was expected to run. I think Sascha is just getting started; she is going to be really exciting to watch in the next couple years."
While the rest of the team is done for the season, the top-10 finish qualifies Bockius for the Nike Boarder Clash later this month, which brings the fastest runners in Oregon and Washington together at the Nike campus for a 4K race.
For Castillo, the race represents not only the end his four-year journey as an Eagle, but the end of an era that saw four Castillo brothers — Leo, Solome, Yanny and Ricardo — climb the ranks of the school's fastest distance runners. Leo and Yanny went on to run at Willamette University, a step Uhler says Ricardo is looking to follow.

Uhler is optimistic about the future of both boys and girls cross country in Hood River and the impact the sport has on young student athletes.

"Cross country teaches so many life lessons … You don't have to be the fastest runner, you just have to work hard and be committed. That's the culture of running we're trying to develop; to be justifiably confident due to the hard work you have done to prepare for something."