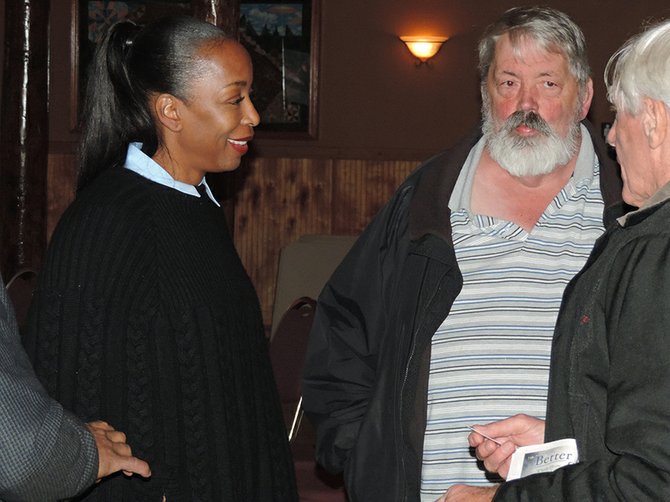 CASCADE LOCKS – An Odell orchardist is looking at a Cascade Locks location for her new business, "The Puff Factory," a 26,000-square-foot plant that will use a unique freeze-drying technique to transform Hood River fruit into snack products. Plans are to employ 30-50 people.
Investors from China who are considering the project were welcomed Friday by Jacqueline Alexander of Morale Orchards in Odell, and officials from the Port and City of Cascade Locks, as well as state agencies, in a meeting at the Port Marine Park pavilion.
The plant would be located on land in the Port of Cascade Locks business park, just north of Bear Mountain Forest Products adjacent to an area known as "the quarry." Entrance would be via a new access road off Cramblett Way.
"Puff Factory is fortunate enough to be a part of an ongoing and significant development phase for the city of Cascade Locks," Alexander said. She welcomed four visitors from Zhuhai, China. Interpreter was Dr. Quinyue Ling of the Oregon State University Food Innovation Center in Portland, who has spent the last three years with Alexander developing a low-temperature freeze-dry process known as IQF that involves individualized drying fruit in slices or cubes.
Alexander said she hopes to have the plant up and running sometime in 2015, and will start with pears; but the IQF process can be used for apples and cherries and other fruit.
"We did a lot of research on this particular kind of product for almost five years," Ling said, "and a lot of people thought it was a good idea. Especially in the last three years, we identified a lot of good snack items that could be made but until now we couldn't find a champion."
Alexander would use her own Bartletts, Boscs and Asian pears, and fruit from other Hood River County orchards, amounting to a product grown and produced completely in Hood River County.
"We are extremely excited. Thank you for considering us," Port Commission Chair Jess Groves told the visitors. "We have vowed to create good family-wage jobs on our industrial property, and that's what we're going to work for. Anyone who wants to join us in that, we're there for you."
Alexander said Zhuhai "is very much like our area, scenic and located on a large body of water, and like Cascade Locks it was designated an economic development zone about 20 years ago," she said, referring to Cascade Locks' Enterprise Zone and Zhuhai's "Special Economic Zone" status.
Alexander said the idea for a freeze-dried processing plant came up years ago, and can serve "a well-developed, growing, active marketplace for freeze-dried fruit products." She said she worked with Columbia Gorge Fruit Growers and other local growers, "who recognized there is value to be placed on fruit that could otherwise not be sold, called culls.
"We will create a high-quality product with a stable shelf life," she said.
"It will be a one-of-a-kind facility in the United States, using local food, a local resource," Ling said.
"At this stage all I am doing is scaling up, so the Puff Factory will be a strong and localized business," Alexander said. Architect Mark Seder of Seder Urban Design in Portland said the facility will be designed for expansion up to double its original size, with sustainable design features including solar panels, rainwater retention vessels, wind turbines, and skylights. He also said the potential will be there to use excess steam from the Bear Mountain plant, 100 yards south.
Alexander, who is also an attorney, was in China on business and said that one night while jetlagged she was up researching value-added products, and came upon the freeze-dried concept. She contacted Oregon Food Innovation Center.
"They told me, 'You came to the right place, because we've been working on that.' We developed a relationship from there, and he (Ling) helped me develop this product through all its stages," Alexander said.
"The Oregon Department of Agriculture and USDA also got involved, along with the growers. It took the wisdom of many groups like this to help this project along," said Alexander, who said she had help from the Mid-Columbia Economic Development District in expanding and improving her business plan.
"We all formed a strong link to a large and already existing commercial marketplace," she said.
She also praised the role of Gary Rains, the Port economic development director.
"He's amazing; he actually convinced me to come to Cascade Locks. He was very effective in communicating all the positive aspects of moving to Cascade Locks, and I'm sold; I'm happy to be here."
Mayor Tom Cramblett told the investors, "We are very excited about this potential, and we thank everyone for coming to take a look at it."
Sen. Chuck Thomsen, who Rains called "our ally in Salem," said, "in my years as County Commissioner for 16 years, I enjoyed my time in Cascade Locks and it is exciting to see that business park start to fill up."
Gorge Commission Executive Director Darren Nichols noted that Cascade Locks is located right in the heart of a National Scenic Area protected by the U.S. Congress and states of Oregon and Washington. He said, "This is a region that prides itself on protected landscapes and healthy, sustainable, vibrant communities, and we're very excited to have you here to see what we are doing and welcome you to our community and make you part of the culture and the people and history that is the Columbia River Gorge."
Seder spoke of the property's proximity to the Columbia River, and to Herman Creek and its cove, as well as to bicycle paths, trails, and a pending sports center (see page A2).