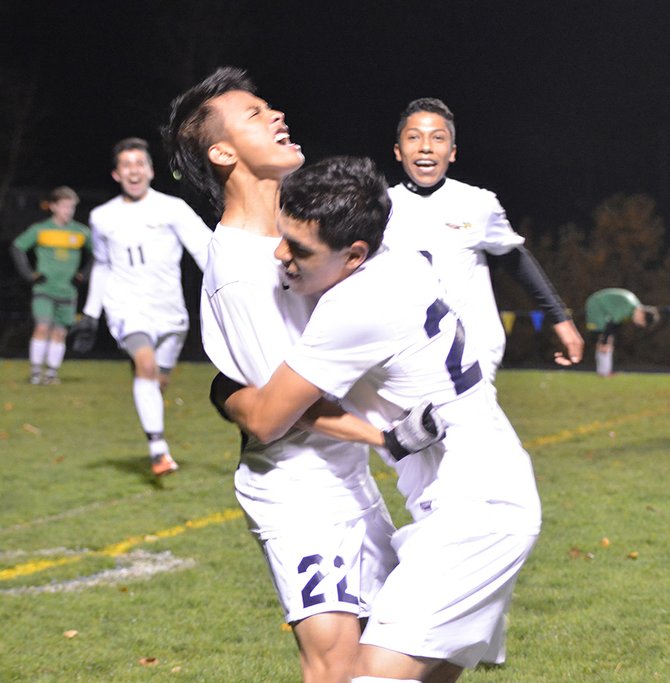 The Hood River Valley High School varsity boys soccer team traveled to Woodburn Tuesday afternoon to face one of the biggest games in HRV soccer history.
An electrifying 4-0 victory at home Friday night over Cleveland advanced the Eagles to the 5A state semifinals where, for the second year in a row, the Eagles will face the Woodburn Bulldogs, on their turf, for a chance to play in the state finals Saturday at Hillsobro Stadium.
For the Eagles and coach Jaime Rivera, the game represents a shot at the first state soccer championship in school history; for the Bulldogs it's a chance to defend three straight 5A titles. The game hadn't been played by news deadline Tuesday morning; see the Nov. 16 News for a game report and www.hoodrivernews.com Wednesday for an update and photos.

When asked this week if Tuesday's game is the most exciting in his coaching career, Rivera chuckled. "Yeah, you could definitely say that. But it's also the most confident … There's not a doubt in my mind that we are a state champion team this year. When you look at our lineup and our depth, pound for pound, we're the best team in the state."
Woodburn finished the regular season with a 5A No. 1 ranking and a 13-1-2 record. On Saturday the team defeated No. 14 Putnam 5-1 to advance to the semifinals. With the higher seed, Woodburn hosts No. 4-ranked HRV on the school's grass field. Last season the two teams went head-to-head in the most intense and physical game of the Eagles' season. Despite a late-game onslaught that nearly gave HRV a comeback win, Woodburn finished ahead 2-1 and advanced to the finals, which they won.
"It's going to be a matter of keeping our cool out there," Rivera said. "We want to beat Woodburn so bad that it's easy to get lost in that emotion. Woodburn is a disciplined team; they've been there before and they know all the little tricks to try to get our boys off their game."
Strategically, Rivera says the two teams have very different styles of play, and he's expecting HRV's speed and athleticism to overwhelm the Bulldogs. "They (Woodburn) like to hold on to the ball, pass it around and try to keep possession. Our game plan is to very aggressive and I think they'll be surprised at the level of pressure we put on their guys. We're not going to be messing around trying to play keep-away, either. We're going to move the ball forward and try to score goals."
The same strategy clearly paid off for the Eagles last Friday in the team's 4-0 beat down of Cleveland. Defensively, the Eagles kept the Warriors to just a few shots the entire game, while the offense, fueled by a sizable crowd for the last home game of the season, was relentless in its attack.
Tuan Nguyen struck first for the Eagles midway through the first half, showing great composure from close-in to volley a ball off his chest and into the net. The senior midfielder scored again early in the second half off a huge setup by Danny Romero to give the Eagles a 2-0 lead.
"We are really confident right now," said Nguyen, who has made a big impact in the last several games. "It feels like we have a really good group. We are like a family out here; we support and help each other like close friends."
This is Nguyen's first season on HRV's varsity lineup after moving to Hood River from Vietnam a couple years ago. He said he played soccer a lot growing up, but the level the team is at this year is higher than anything he has been a part of.
With a two-goal lead, the Eagles capitalized on Cleveland's frustrations and dwindling hopes to break the game open. Alex Gutierrez took a through ball from Nguyen, dribbled past two defenders and put a bullet of a shot into the upper corner to make it 3-0. A fourth goal came from a setup by Giovani Magana to Aldo Muro, who found the net with about two minutes remaining.
In all four goals, an unselfish attitude toward scoring paid off, and that's something that's very difficult to instill in a team with so many talented players. It goes back to something senior captain Edgar Villegas said after the team's 7-1 win over Parkrose in the opening round of the playoffs:
"Our strength right now is how confident we all are in each other," he said. "It comes down to trusting each other with the ball. What matters for us is getting the result; not who scores the goals."
Villegas sat out more than half of Friday's game after getting hit in the knee by an opposing player. He was ready to go back in later in the second half, but with momentum clearly on their side, Rivera decided to keep him out.
"When you look at our roster, we have so many talented guys ready to play," Rivera said. "Our depth gave Cleveland problems and I think it's going to continue to cause problems for anyone we come up against."