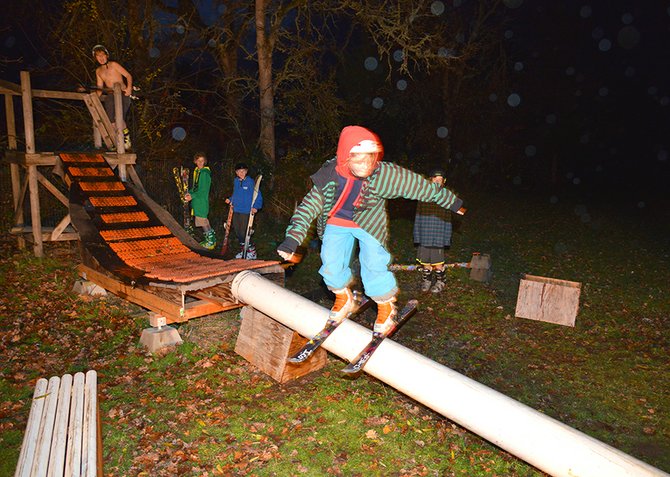 Taking the term "training" loosely, Cooper Spur Race Team's FreeRide Team started winter practice a couple weeks ago, and although the snow is still far up the mountain at the moment, the dozen or so kids at practice this week were geared up and working on their best rail-sliding maneuvers.
Utilizing a parent's west-side property and some simple ingenuity, the kids spent Tuesday evening sliding down a homemade "dry slope" covered in wet patches of fake grass and hitting a long, white PVC rail similar to the sliders they'll experience in terrain parks once ski resorts open for the winter.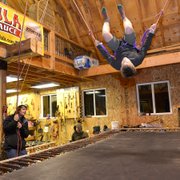 After about an hour of jamming on the rail and heckling one another to all ends, the kids move into a barn, where they can practice flips on a trampoline and harness setup that allows coach Justin Wiley to pull on a rope to hold the kids in midair while they rotate. Reluctantly, the others do air squats, lunges and stair laps while they wait for their turn on the trampoline.
CSRT introduced its FreeRide program last season for kids ages 9-14, which organizers say was a great success. This year the program has been expanded to include the season-long team as well as single and multiple day camps that run throughout the winter.
Last year, Wiley says, "the kids were having so much fun that, by the end of the year, I had kids ready try more advanced moves and compete. This year we want to take it to the next level and offer more team riding sessions and a competition component."
CSRT will have three FreeRide teams this season: a development team for entry-level freestyle skiers, a training team for those looking to develop skills enough to be able to compete in the future and a more focused competition team for kids ready put their skills to the test against other skiers.
For those ready for competition, Mt. Hood Meadows hosts a regular Night Rail Jam series throughout the winter and stops of the USASA Mt. Hood Series.
"For those who just want to try out a competition, the Meadows Night Rail Jams provide a fun and easy opportunity to compete," Wiley explained. "The USASA Mt. Hood Series offers more structure and increased competition for those who are a bit more motivated. We are really lucky to have both of these series in our backyard."
The team continues dryland practice through mid-December before moving to slopeside training for the rest of the season. Anyone interested in joining can find more information at coopserspurraceteam.org or contact Program Director Shana Sweitzer at 541-490-7575.