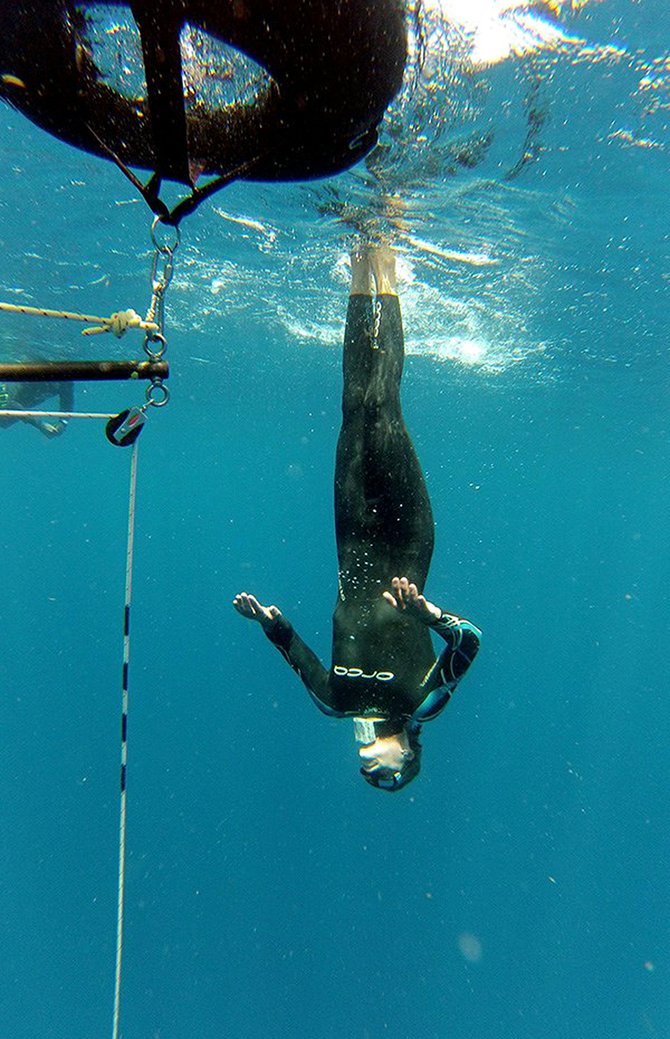 Wes Lapp got hooked on freediving about 10 years ago, when he and his wife, Nancy Napp, took a six-week trip to Micronesia with the objective of conceiving their first child. The trip was a success; somewhere between Guam and Pohnpei their daughter, Zan, was in utero, and the two returned home to Hood River to start their new family.
They also returned with an invigorated appreciation for the ocean and the sport of freediving, which they got a taste of in the clear, warm waters of the South Pacific.
Zan is 9 years old now and Wes, a single father since 2011, when Nancy succumbed to cancer, continues to find gratification and peace in a sport that only a select few around the world excel in.
Lapp trains regularly in the Hood River pool to prepare for diving trips he takes about once a year. Most recently, he and Zan traveled last month to Curaçao, a small Caribbean island off the coast of Venezuela, to participate in a 17-day Performance Freediving International event.

"It was seven days of training and seven days of competition," Lapp explained. "I did pretty bad this year. Last year I set the U.S. National record and I was hoping to break that record."
Last year Lapp set a Dynamic Apnea record with a pool swim of 170 meters (557 feet) during a contest in Grand Cayman. Dynamic Apnea is a distance category where divers have a single breath to swim underwater as far as possible. Lapp used a dolphin-like fin attached to his feet and weights around his neck in the 2-minute, 35-second attempt. In 2007 Lapp swam to a depth of 48 meters (157.48 feet) to set U.S. National Constant No Fins record. Both records have since been broken as elite athletes continue to take the sport to new depths and distances.
"For me the No Fins category seems like a safer option," Lapp said, explaining that divers in other categories using fins, weights and sleds go much deeper, thus putting divers at more risk. "It's still an extreme sport, but there are plenty of safety measures during contests. I like that it's something I can push myself in but still be safe. It's also something I can do with Zan. She likes to swim on the surface of the water and watch me dive, and when we go on a trip it's like a reunion with the other families who are into the sport."
During last month's Curaçao contest Lapp repeated his 48-meter depth dive, which he says felt pretty easy. The current U.S. record in the category is 71 meters. In the distance contest, Lapp said one challenge is to overcome the ability to surface at any time, unlike a depth dive.
"For me, about halfway through a dive is when the urge to breathe is the strongest," he said. "In a pool you're only a few feet below the water, so it's pretty easy to give into that urge and come up. I come up in the middle about half the time, which is what I did in Curacao."
Lapp says he trains a few times a week at the Hood River Aquatic Center, where he can be seen swimming laps back and forth underwater. When weather and temperatures permit, he trains depth dives at Lost Lake, where the elevation and oxygen levels mean shallower dives equate to deeper ones at sea level.
"I find the training very peaceful," he said. "It is soothing to be under water; it's quiet and peaceful."
Lapp says he also enjoys the scientific aspect of the sport. "The competitions make the training really interesting. I'm able to measure and study exactly what my body is capable of and then figure out how to improve my results. Competitions give me a reason to train with specific goal and objectives."
In addition to depth and distance, free diving events also typically include a Static Apnea contest, which is simply how long a person can hold their breath while underwater. Lapp says his personal record is 6:45; the current U.S. national record is 7:43 for men and 6:35 for women.
In his professional life, Lapp is the chief engineer at Real Carbon, a Hood River-based company he and friend Mike Graham founded in the 1980s (originally called Karbon Kreations).
"Me and a friend were living in LA making carbon fiber windsurf boards," he explained. "We wanted to live in Hood River. We got a subscription to the Hood River News and looked for a place to rent out. The old-timers in town will remember the Jones Boys Dairy (on Tucker Road). We were the first tenant in the building after they moved out; I think we rented it for about $300."
Over the years the company had to diversity to stay alive, and in the last decade or so has found success in a shift from sports gear to custom-made components for high-tech apparatus like unmanned aerial vehicles and military armor.