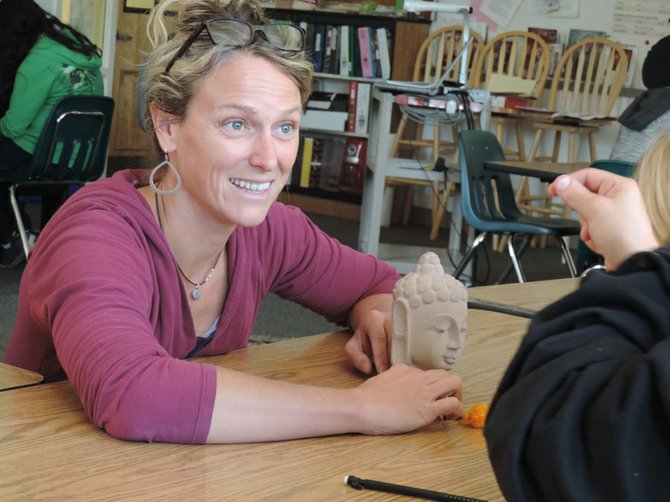 Room 502 at Hood River Middle School is a virtual globe, and its students all travelers.
For Sarah Segal's work in giving her sixth-grade students an understanding of world cultures, the HRMS teacher has earned the first annual Robert H. Jackson Center National Award for Teaching Justice.
Segal teaches Social Studies, Language Arts, Constitutional Law and Oregon History at HRMS.
Segal currently teaches sixth-grade Humanities and a constitutional law elective class. In a lesson last week, she handed out artifacts from Tibet, Saudi Arabia, India and other nations, including a Turkish wedding rug, and helped her students determine their cultural role and significance, and what aspects of the objects puts them in common with objects of other cultures.
Segal, a 10-year HRMS teacher, will travel next month to St. Louis to receive the honor from the Robert H. Jackson Center, in partnership with the National Council for the Social Studies.
"We are extremely proud of Sarah being the first recipient of this national award. It is yet another example of the high caliber of teachers that we have in the Hood River School District," said Dan Goldman, district superintendent.
"Sarah Segal is a dynamic educator who leads by example and uses her role as a teacher and leader to encourage and motivate students to examine more closely the world around them," said James C. Johnson, president and CEO of the Robert H. Jackson Center.
"She emulates the spirit of Justice Jackson, and the selection committee found her to be most worthy of receiving the 2013 Robert H. Jackson Center National Award for Teaching Justice."
Segal said, "Teaching Social Justice incorporates my passion for exposing students to historical and modern circumstances of human existence, advancing critical-thinking skills, promoting meaningful dialog, and ultimately, cultivating student 'voice.'"
The Jackson Award was created to recognize individuals who have made an outstanding contribution toward teaching the concept of justice in creative, inspiring ways, which may include teaching about civil liberties, human rights, international humanitarian law, the Holocaust, genocide studies, or local issues of justice.
Segal will be presented with the Jackson Award on Nov. 22 during the annual conference for the National Council for Social Studies in St. Louis, Mo.
"Sarah is a passionate teacher that infuses her sixth-grade humanities class teaching with literacy, literature, and human rights curriculum," said her principal, Brent Emmons. "Through her carefully selected literature and unit topics, she develops her student's inquiry into local, national and global issues.
"Her constitutional law elective students sharpen their critical thinking and problem solving skills by researching current issues and exploring multiple perspectives supported by statistical data. Through their research projects, her students develop articulate questions, interview and communicate with public officials, and collaborate with local agencies."
Segal received a Bachelor of Arts in sociology/anthropology from Western State College of Colorado in 1998 and a master's degree in curriculum and instruction from the University of Montana in 2004. She has received numerous awards and grants and has participated in national and international travels to various countries, including China, Germany, India, Japan, Saudi Arabia, South Korea and Turkey, for first-hand exploration of social, economic, environmental and historical interconnectivity of peoples throughout the world.
Her classroom is filled with posters, maps, rugs, both original and student work, representing cultures from all over the world, ranging from Tibet to Navajo lands.
This past year her students interviewed U.S. Sen. Ron Wyden and U.S. House Rep. Greg Walden.
Segal has served with the Oregon Council for the Social Studies as a board member, secretary and conference coordinator, and House of Delegates representative at the NCSS annual conference. She has made numerous presentations at both state and national levels.
Born in rural northwestern Pennsylvania, Robert H. Jackson was a country lawyer in Jamestown, N.Y., who subsequently served as Solicitor General and Attorney General, and as an Associate Justice of the United States Supreme Court.
Following World War II, Jackson was selected by President Truman to be the Chief U.S. Prosecutor at the International Military Tribunal, Nuremberg, where he personally led the trials against senior Nazi leadership for crimes against humanity, war crimes and crimes of aggression. His ground-breaking work at Nuremberg served as a model for today's International Criminal Tribunals in The Hague, Africa and elsewhere. His writings and actions have come to personify the American ideal of fairness and justice for all.
The Robert H. Jackson Center in Jamestown, N.Y., was established to honor and advance Jackson's remarkable legacy, pursue the relevance of his life's work and to provide an educational facility for those purposes. The Center's programs place special emphasis on educating youth on issues of justice and fairness and applying Jackson's work in international humanitarian law as it relates to bringing to trial those responsible for war crimes, crimes against humanity, genocide and other serious violations of international law.
More information about the Center can be found at www.roberthjackson.org.
District Human Resources Director Kevin Noreen and HRMS Principal Brent Emmons contributed to this article.