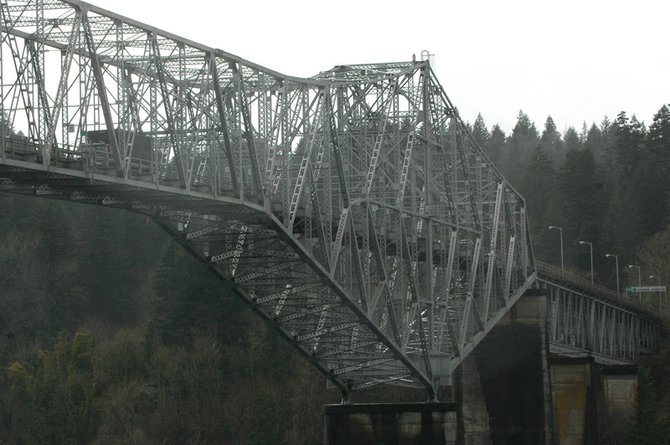 The closure schedule for the Bridge of the Gods has changed as a result of recent discussions between the Oregon Department of Transportation and its contractors who will be doing a series of repairs on the bridge over the next couple months.
The bridge was originally slated for closure from 7 p.m. to 6 a.m. every day starting Oct. 11 until the end of the year. According to the latest bridge closure flyer issued from the Port of Cascade Locks, motorists using the Bridge of the Gods should expect the possibility of alternating lane closures to occur starting Wednesday, Oct. 16, from 7:30 a.m. to 6:30 p.m., seven days a week. Workers will be repairing or replacing dozens of rusty or corroding bridge components that caused ODOT to increase the weight restrictions on the structure in July from 40-30 tons to 8 tons.
As of now, full nighttime closures of the bridge are expected to begin mid-November. Port of Cascade Locks Interim General Manager Paul Koch said the bridge is tentatively scheduled to be fully closed to traffic, with the exception of emergency vehicles, from 7:30 p.m. to 6:30 p.m., but Koch noted those times could change.
The closures are expected to be lifted when the repair job is finished, which is anticipated to occur at the end of the year. ODOT reports the bridge will not be closed, however, on Thanksgiving, Christmas, or New Year's Day.
In regards to the daytime alternating lane closures, Koch said he "wouldn't expect them to be lengthy, but you never know."
The construction will likely impact many travelers on both sides of the Columbia River.
Koch said the port has received a good deal of feedback from the public — the general tone of which he summed up as, "I don't like it, but let's get it done."
"It's an inconvenience for everyone," he added.