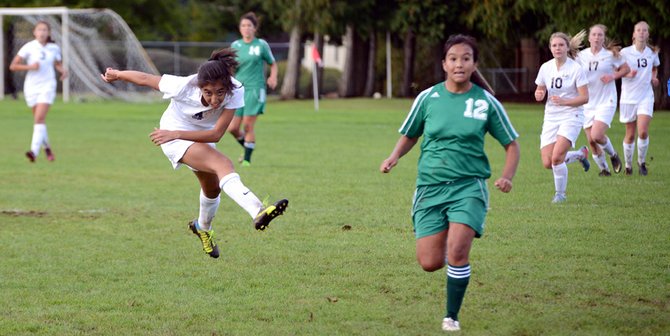 In the most anticlimactic result possible, Hood River Valley High School varsity girls soccer team played to a 0-0 tie at home Tuesday afternoon in the its Columbia River Conference opener against the Pendleton Buckaroos. The Eagles (3-4-1) put constant pressure on Pendleton's defense and were the clear winner in terms of possession and scoring opportunities, but despite a late-game series of scoring opportunities and near misses, they were unable to put the ball in the net.
Slick and muddy conditions played a huge factor on both sides of the field as players struggled to change directions quickly, pass accurately and get firm footing for solid shots.
After a fairly deadlocked first half fought largely at the midfield, the Eagles came out firing in the second half, sparked by high-speed charges down the right wing from freshman Monique Diaz. In an aspect of the game coach Kevin Haspela will surely focus on in practice, the Eagles missed about a dozen prime scoring opportunities in the last 10 minutes of the game off of Diaz's well-placed center balls and corner kicks.
Fellow freshman standout Cielo Rivera gets credit for an impressive presence at center midfield, particularly in the final minutes when she had four shots on goal – one of which was agonizingly close but bounced off the far post and went wide – and got up firing after a hard Pendleton foul that resulted in a yellow-card.
Although an offensive doughnut hole, the game will likely prove valuable as a defensive success in the face of difficult conditions. HRV goalies Vanessa Silva (first half) and Sophia Marble (second half) saw little action at their end of the field, thanks largely to solid defensive efforts by the midfielders and back line that gave Pendleton precious few looks at the goal.

The tie gives HRV a 5A No. 28 ranking — not the position the team was hoping to be in at this point in the season, but not far off the other three Columbia River Conference schools. In CRC standings, all four teams are even with a 0-0-1 record; The Dalles and Hermiston tied 2-2 the same day. Hermiston holds the highest 5A ranking at No. 15, with The Dalles at No. 22 and Pendleton at No. 29. The top three 5A teams are currently Sherwood at No. 1, Summit at No. 2 and Willamette at No. 3.
The Eagles move on to play at Hermiston Oct. 8 and have another week off before hosting The Dalles on Oct. 15.