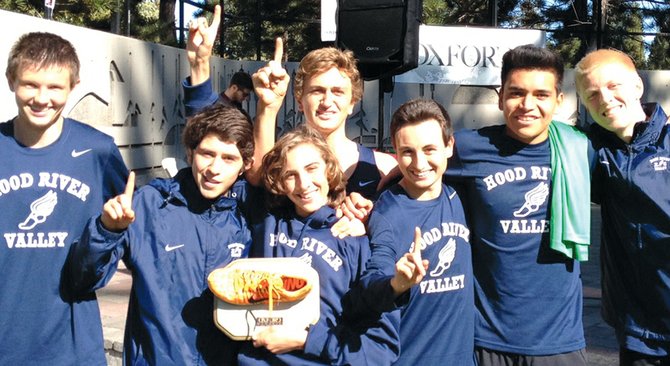 With just two contests remaining before the Columbia River Conference championships, Hood River Valley High School cross country runners are energized and on track for an exciting showdown at the end of the month. In a format that advances only the top two boys and girls varsity teams and five fastest individuals, the stakes are high in the CRC finale, held this year at Pendleton's McKay Park.
At this point in the season training and discipline become vital, as athletes must push their training to the next level to peak at the proper time, while building confidence and poise for the mental challenge of the all-or-nothing format of the CRC and state finals.
"We are right on schedule with our training," coach Kristen Uhler said this weekend following the team's successful road trip to the Oxford Classic in Bend. "The kids are pretty excited with their performance, and there's nothing like a win to motivate them to train harder."
The Oxford Classic on Saturday pitted HRV against a field of nine varsity girls teams and 13 varsity boys teams on a 5K course at downtown Bend's scenic Drake Park. Racing in the invitational division rather than the elite division, the Eagles had commanding wins in both varsity and junior varsity boys races and finished in second in both girls races.
"This meet will build their confidence before we race in the Elite division at the Adidas Invitational next Saturday," Uhler noted. "Everybody was confident and aggressive in their race. Cross country is about building confidence through hard training. Then, come race day, you can just let your body do what it was trained for."
In sync with training objectives, every varsity runner put in a season personal record at the meet and several had career-fastest marks. Leading the boys squad was Ricardo Castillo, who finished third in 16:30, his fastest-ever 5K time: 17 seconds faster than his 2012 CRC result. On the girls side, Sascha Bockius left the field in the dust at mile-two to finish with a 20-second lead over second-place finisher Sara Christianson of Borah High School. The 18:54.3 result was Bockius's fastest of the season and exactly two minutes faster than her time at the same race last year. It is also currently the fastest time posted by any CRC runner this season by more than 30 seconds. Castillo's result Saturday is the third-fastest time in the conference, with Hermiston runners Alejandro Cisneros in first (15:26.6) and Jose Macias in second (15:49.7).
The varsity elite division winners gave the Eagles perspective on their times versus bigger, more developed cross country programs. South Eugene's Ben Elder put in a blistering first-place time of 17:05 and the top varsity girl, Summit sophomore Hannah Gindlesperger, finished sub-18 at 17:46.7 to lead the elite races.
HRV junior varsity teams were led by Abigail Kinoshita (23:22.9) and Miguel Cuevas (18.23.2), both in second behind runners from Borah High.
Race results
Varsity girls: 2nd
Sascha Bockius, 1st, 18:54
Sophia Marble,10th, 20:45.8
Daisy Dolan, 13th, 20:50.7
Lauren Robinson, 14th, 20:54.9
Althea Dillon, 18th, 21:08.4
Kailee McGeer, 20th, 21:09.8
Denali Emmons, 21st, 21:11.2
Varsity Boys:
Ricardo Castillo, 3rd, 16:30
Justin Crosswhite, 7th, 17:00.7
Quinn Fetkenhour, 15th, 17:30
Jorge Cuevas, 20th, 17:39.9
Carlos Chairez, 24th,17:53.1
Nils Engbersen, 25th, 17:57.3
Charlie Sutherland, 27th, 18:01
JV girls, 2nd
Abigail Kinoshita, 2nd
Jenna Powell, 3rd
Marley Bloomster, 9th
Andrea Martinez, 40th
Marie Browning, 44th
JV Boys: 1st
Miguel Cuevas, 2nd
Nick Salter, 3rd
Jesse Wiley, 4th
Nicholas Poe, 8th
Rafael Villegas, 12th
Daniel Fischer, 17th
Jacob Bromham, 22nd