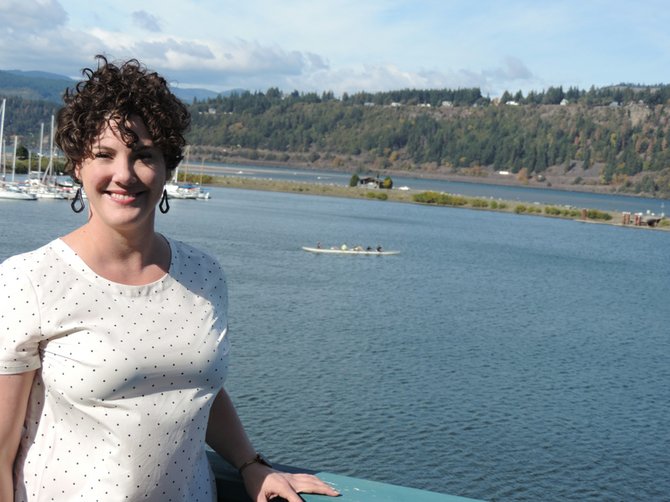 Ashley Huckaby, event coordinator for Hood River County Chamber of Commerce, has a lot on her plate these days.
In just a couple of weeks, the 31st Annual Hood River County Harvest Fest gets under way at the Event Site on the waterfront. And while Harvest Fest is a huge undertaking — planning begins in March — it follows two big Chamber events held every fall: the Labor Day Roy Webster Cross Channel Swim and the Hood River Hops Fest, this year on Sept. 28.
As event coordinator, Huckaby is responsible for the preparation and execution of Hood River County Chamber of Commerce Events.
"With how our events fall, we have to have our ducks in a row as we transition from one to the other," she said. "As soon as Harvest Fest is over, we'll be transitioning to Hood River Holidays."
A parade and tree lighting on State Street — as well as the lighting of downtown and the 51 trees lining Oak Street — are planned for Dec. 6.
"We'll be hitting the pavement seeking sponsorship for those soon," she added.
But for now, her focus is on Harvest Fest.
Harvest Fest began as a way to highlight local produce in the area, said Huckaby, and the "produce row" farmers market is still a popular attraction.
"I can remember performing at the Harvest Fest with the sixth-grade choir," she said. "I remember the produce and the pumpkins. It's neat to see the event has maintained its integrity through the years."
Huckaby has been coordinating the 112 food, produce, and arts and crafts vendors that make up Harvest Fest, as well as getting permits and gaining sponsorships. Pacific Power is the main sponsor of the event.
She has organized miscellaneous rentals, such as the tents that cover a portion of the vendor, and will oversee the setup. She's also been coordinating community booths, such as the Arts of the Mid-Columbia Entertainment Tent, and the Leaders For Tomorrow Pie Eating Contest. And a variety of clubs and organizations will be on site at the Providence Hood River Memorial Hospital Kid Zone with various activities.
Volunteers are a very important key to the success of Chamber events, said Huckaby, noting that Hood River is a special community.
"That's something I didn't expect with this job, or think about, but that's the theme, how impressed I am with our community over and over with each event," she said.
She also credits the "dynamic Chamber team" for the success Chamber events enjoy, and especially Event Assistant Dean Pivirotto.
Huckaby began working with the Chamber in 2012, initially on a volunteer basis.
"I had my own wedding coordinating business and had been involved with events and contracting events," she said. Nancy Carlson, then event coordinator, asked Huckaby to help with Hops Fest and Harvest Fest.
Then, at the beginning of this year, Carlson asked Huckaby to be her assistant, and so, on March 1, Huckaby began her position as event coordinator assistant. Carlson has since moved on, with Huckaby stepping into her shoes.
"It was very quick and such an incredible opportunity," she said. "I'm very fortunate."
She still works as a wedding coordinator, although, she said, "I don't do a ton. I don't have the time." She did six weddings this summer, but plans to cut down significantly next year.
Huckaby has become more involved in community events on a personal level since joining the Chamber team.
"The most impressive part of my job is the doors that have opened," she said. "I've met several people who have opened up avenues for me to be more personally involved in the community. It's turned a light on, how much involvement there is, and how many hours are given" by Hood River residents, she said.
Huckaby grew up in Hood River. Originally from Arkansas, she moved to Hood River in 1994 at the age of 12 by way of California with stepfather and mother Brian and Jeanie Watts, and younger brother Curtis Huckaby. Older brother Matt Huckaby still lives in Arkansas.
After high school, she spent seven years "getting my wiggles out," and lived in several different places.
"There was a point when I was living in Austin, Texas, and I realized there was no better place on earth than Hood River," she said. She moved back to Hood River in 2007.
This time around, she plans to stay. "This is home," she stated simply.