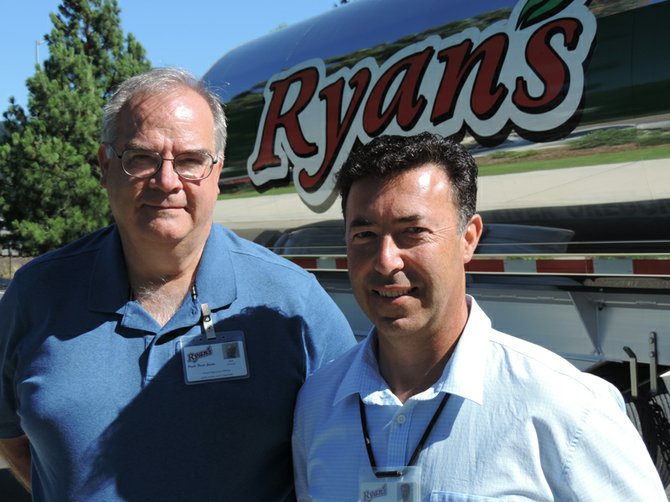 Former Hood River City Manager Bob Francis was back in city council chambers last week, this time, on the other side of the dais.
Francis, who resigned this summer over a dispute he had with Mayor Arthur Babitz regarding municipal protocol, was at a council meeting last week to address another dispute over protocol, this time involving Francis' new employer: Hood River Juice Company.
Interim Hood River City Manager Don Otterman brought to the mayor's and council's attention an outstanding bill for $419,435.50 in sewer charges racked up by Hood River Juice Company, also known as Ryan's Juice. The charges were incurred from July 2010 to July 2011 when the company, now located at the waterfront, was located on Country Club Road, but utilized the city's wastewater treatment plant in order to dump its effluent.
According to a 2010 letter from Bob Francis to David Ryan, president of Ryan's Juice, Francis allowed the deferment of the back sewer bills because Ryan was then in the process of moving to his current facility at 550 Riverside Drive. According to the letter, Francis told Ryan that "in order to assist you in opening your facility, I am willing to defer, not waive or eliminate, any payments owed to the City for treating your industrial waste." The letter went on to say that once Ryan opened his new facility, "the City will expect monthly payments for the deferred amounts until all outstanding invoices are paid." If Ryan failed to comply, Francis informed in the letter that his effluent discharge permit would be revoked.
In a later interview, Babitz explained that the typical remedy for delinquent sewer accounts is to shut off service after a period of non-compliance, not to "extend credit." Moreover, he said there was never a signed agreement between the city and Ryan's Juice about how to deal with the debt.
Councilor Laurent Picard was irked that Francis had provided an interest-free deferment to Ryan's Juice without consulting the council.
"How did we not catch this sooner?" Picard asked. "This was essentially a loan; why wasn't this brought to us during the budget process? I didn't know anything about it."
Otterman replied that he couldn't tell Picard for sure as he wasn't employed by the city at the time. He explained that he noticed an item called "deferment of treatment charges" during one of the city's recent development committee meetings. Otterman said he asked about the debt and was directed to City Finance Director Lynn Rasmussen, who showed him a spreadsheet of the charges.
"I said, 'Well, is there a guarantee for this debt?' And I was told there was not," Otterman recalled. "So then I started putting together what I thought was the next step, which was to make sure that we are guaranteed so that if something happens — the business folds or whatever — then we are still guaranteed that we're going to get the payment."
Councilor Brian McNamara asked if Otterman had ever seen a deferment this size. Otterman replied he had not.
Picard then suggested that Francis may have cut a deal in order to curry favor with Ryan and land a job with the juice company.
"This situation really troubles me," Picard said. "To me there's a real appearance of impropriety here, because there definitely could be a public perception problem, that there's some sort of quid pro quo, you know, Bob making what essentially is a three-year, half a million dollars interest-free loan without consulting council — I was never consulted — or getting input from the council, to a private company, Ryan's Juice, with no written guarantee of payment, or even any terms of payment. And then Bob gets a job with the same company, to whom he gave this loan. So it doesn't smell right."
Picard continued to rail against Francis, calling the situation "a misuse of taxpayer funds and a breach of the public trust." He added that council "never would have approved a loan with these terms" and expressed a "need to assure people this is not how the city operates anymore and this is not how the city is supposed to operate."
Picard than turned to Dan Kearns, counsel for the city, and asked him if any rules or city ordinances had been violated by Francis.
"Bob was required to get council approval for the purchase of the city police car, or public works equipment," Picard said. "Surely he was required to get approval for a half a million dollar interest-free loan to a private company?"
"As far as I can tell, there is no specific city rule that governs this situation," Kearns replied, but added that as deferments went, he had "never heard of one for a debt of this size."
Picard then asked if Francis had broken any laws.
"Could this just be poor judgment of the former city manager or do we need to further investigate the possibility of a quid pro quo?" he asked Kearns. "Could a crime have been committed here?"
Kearns replied that since the letter was drafted in 2010, there didn't appear to be any "self-dealing" done by Francis. He said later in the meeting that the situation had been brought to the attention of both Hood River County District Attorney John Sewell as well as Hood River City Police Chief Neal Holste, neither of whom believed that Francis had committed a crime.
However, Kearns noted that in his opinion, the former city manager did err when he set up the deferment with Ryan's Juice.
"It should have been done differently; it should have been done in writing; there should have been terms expressed. There should have been a security for the debt," he said. "Those are the problems."
It was then Francis' turn to speak. He approached the podium and informed council he regularly "deferred other utility charges for other customers when they've needed help and some of them were commercial customers."
In a follow-up interview, Francis said a "delinquent account is a delinquent account, whether it's two dollars or two million dollars."
Francis also explained that according to the city code, the "city manager can collect all fees. It doesn't say how he collects; it just says he collects." He added that he also was not required to bring the deferment to council."
Francis explained that his prime motivation for offering the deferment to Francis was to keep Ryan's Juice — one of the city's largest employers — in town, as well as the 100-plus jobs the business provided. He explained that at that point, Ryan was considering moving his business to Yakima, Wash., in order to save money.
Francis said Ryan has so far made good on their agreement, which required Ryan's Juice to pay the city $10,000 a month on the debt. He noted that Ryan had not missed a payment and actually paid double in the month of January. If he missed a single payment, Francis said Ryan understood a lien would be placed on his property and his service would be shut off.
Francis added that he did not feel like he had damaged the city in any way.
"If you're going to ask any taxpayer if you think that's an abuse, I think they'd turn around and say, 'As long as you got your money, then that's OK.'"
Babitz asked Francis why there was no letter of credit from a bank regarding the debt. Francis said it "might have fallen through the cracks," but didn't know why it hadn't been obtained.
"There was nothing malicious about it; there was nothing criminal about it; there was nothing unethical about it," he said and added that "there was nothing to hide and nothing hidden."
Councilor Ed Weathers, however, believed the matter should have been brought to council regardless.
"I think these are policy decisions," he said. "I think council should have been aware of them."
David Ryan addressed the council and repeatedly asked councilors to do what was "fair" regarding how to proceed with his debt. He reminded councilors of the support Ryan's Juice provided at community events and said that council "will not find another company that will support this community like our company will, now, and in the future."
Council next considered a contract drafted by Kearns for the repayment schedule, which carried the previous stipulation that Ryan's Juice pay a minimum of $10,000 a month on the debt, but tacked on a 6.75-percent interest rate.
Francis asked what the rationale was behind charging this rate and said delinquent sewer accounts are not charged interest rates. Babitz explained this was the rate assigned when the city extends credit.
A visibly annoyed Francis then asked the rhetorical question: "So you're charging 6.75 percent to this one company?"
Council unanimously approved the contract, which was to be signed by the city and Ryan's Juice at a later date. Councilor Mark Zanmiller proposed that the city craft an ordinance dealing with utility deferments so as to avoid a similar issue in the future.
In a later interview, Francis was asked if he felt the line and manner of questioning during the meeting violated the terms of his separation agreement with the city, which forbids both Francis and the city from "any untruthful disparagement or vilification of the other." He said he felt that in some ways, it did violate the agreement and characterized Picard's line of questioning in particular as "an attempt to publicly embarrass me for leaving the city."
However, Francis said he didn't plan to take any legal action.
"Now that I'm not the city manager, I want the council to just leave me alone," he said.