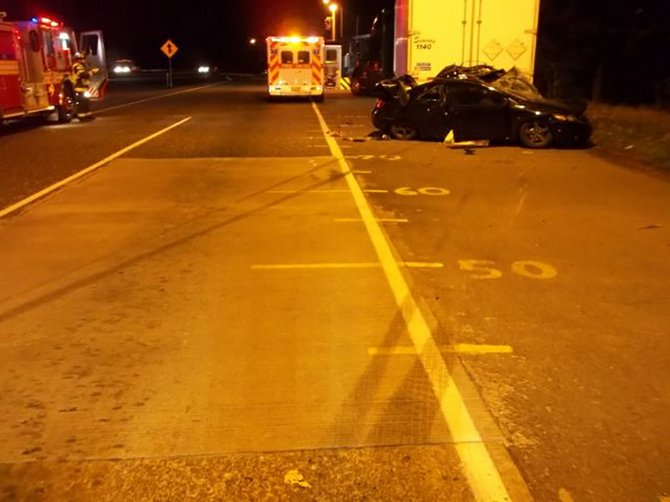 Oregon State Police was notified Saturday by the Multnomah County Medical Examiner that the passenger critically injured in an early Thursday morning fatal traffic crash along the westbound lanes of Interstate 84 about seven miles west of Hood River died at a Portland-area hospital.
Passenger Eric Tyler Smith, 18, from Portland, was transported after the crash by ambulance to Legacy Emanuel Medical Center where he was treated for injuries until his death. He was not using safety restraints.
Oregon State Police is continuing the investigation into the cause of the crash, which happened just before 5 a.m. along the westbound lanes at I-84's milepost 55, at the Wyeth ODOT truck scales.
According to witness reports provided by Oregon State Police, driver Timmy Truang, 18, was driving a 2007 Honda Civic two-door when the car nearly rear-ended a commercial truck and trailer, lost control, and went across the lanes into the Wyeth Weigh Station truck scales and crashed into the back of a parked semi-trailer.
Truang, who was using safety restraints, was pronounced dead at the scene and a male passenger suffered critical injuries.
OSP was assisted at the scene by Hood River County Sheriff's Office, local fire and medical responders, and Oregon Department of Transportation.