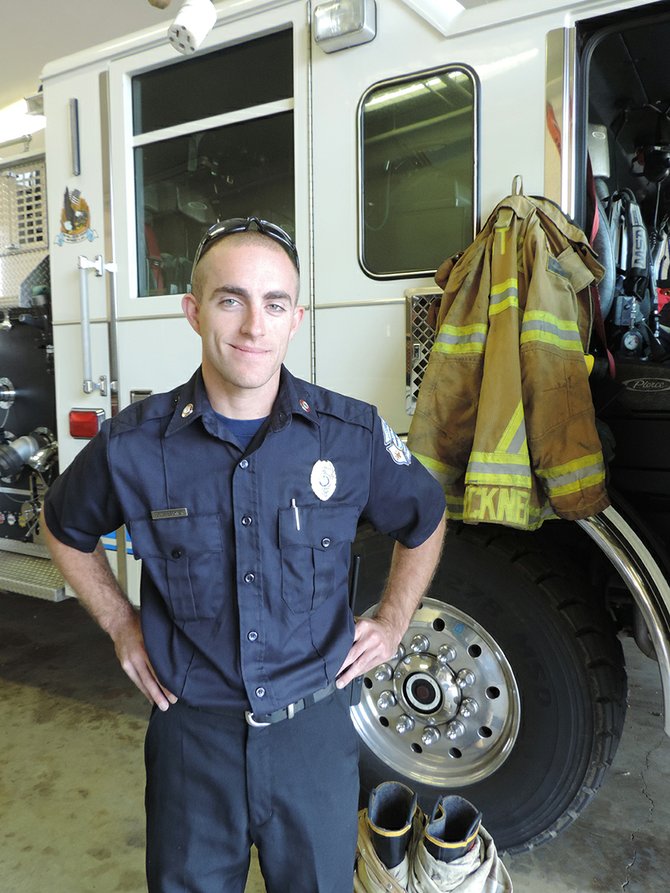 Josh Beckner, West Side Fire Department Lieutenant/Training Officer, has only been in his position since July 1, but his fire experience dates back to his junior year at Hood River Valley High School. He began as a student firefighter in 2002, and has been involved in some capacity ever since.
"It's what I love to do every single day," he said.
Although his association with West Side Fire has been constant, he has often volunteered with multiple agencies in the Hood River valley at the same time, citing a desire for additional training as his chief motivator. Beckner and fire marshal Jim Trammell are the only two paid staffers on the department.
As a student firefighter, he interned at Hood River Fire, and spent a year after graduation as a regular volunteer. He spent another year, in 2010, volunteering with the Parkdale Fire Department.
He's also served as a reserve with the Hood River County Sheriff's Office since 2007. It's much the same work as the fire department, he said — search and rescues, assisting with ATV patrols in the hills — with the addition of marine patrols, shifts at high school football games, and working at the fairgrounds during the fair.
Even his positions outside of the fire department have involved helping people in distress. Once Beckner graduated from high school, he began working at Mt. Hood Meadows as a full-time, year-round employee. He slowly worked his way up and had been the public safety supervisor, and then manager, at the resort about six years before taking his paid position with West Side Fire.
At Mt. Hood Meadows, he would assist Parkdale Fire, Oregon State Police, Oregon Department of Transportation, and the Hood River Sheriff's Office as an initial responder for car accidents and search and rescue operations. On the mountain, he assisted with ski patrols, fire safety and response, security and law enforcement.
While always involved in some aspect of firefighting, Beckner took a low-key approach to finding a full-time position.
"I've been interested in fire since high school, but I didn't pursue it very strongly," he said. "I figured the right job would just open up."
Because Beckner has so much experience as both a student firefighter and as a volunteer, he brings rare insight to his job each day. He's been able to "work with the volunteers at a whole new level" because he knows the frustrations they face on a personal level and is able to look at it "from the other side."
One such frustration was a lack of training time. Officially, volunteer training happens at the station every Wednesday night, but with today's economy, he said, it's not realistic to expect every volunteer — and there are currently 69 — to be able to come then. So he works with the volunteers "when they can come in during their free time," he said.
"There just wasn't enough time in Trammell's day, with everything he's taxed with, to be able to keep up," he explains of his open-door policy. "That's probably true for most departments."
Another aspect of his job is student firefighter training. He outlines the basic training and helps Student Firefighter Advisor Tommy Oswald "figure out what they need and don't need." Until a student is 18, there's a limit to what they're allowed to do, and training them to an advanced level — one they can't actually use in a real-life situation — tends to frustrate students more than prepare them.
"We train them so they can help out as much as they can," he said.
He makes an effort to give students as much hands-on training as possible. "Being a kid that has to sit in school for a good portion of the day already, it makes it really hard to keep their attention (lecturing in the classroom) than taking them out to do something fun," he explained. For example, in recent weeks, student firefighters have participated in vehicle extraction training and vehicle fire training.
In addition to trainings, Beckner's responsibilities include everything from truck inspections to issuing burn permits. He also responds to calls with volunteer firefighters, on fires and accidents alike. Because the fire department is mostly staffed by volunteers, when a call goes out, some head directly to the scene in private vehicles while others come to the station for equipment.
"With that, you'll get everything from student firefighters to firefighters to EMTs and chief officers responding," he explained.
In keeping with continual quest for more training, Beckner is currently undergoing EMT training at the Columbia Gorge Community College Hood River campus. He's working on his basic level now, but hopes to finish at the intermediate level.
EMT training "allows a person to do things like start and set up IVs," he explained. "It allows you a lot more leeway about what you can do and what life-saving measures you can use."
Firefighting doesn't run in Beckner's family, but his involvement has inspired sisters Rachel and Becky Beckner to follow in his footsteps. Rachel is a volunteer EMT firefighter for West Side Fire District, and Becky is the assistant student firefighter advisor. Sister Jennifer Dillenbeck is currently training to be a nurse.
Beckner moved to Hood River with his family when he was 5 years old, beginning kindergarten at Westside Elementary and moving his way through the Hood River County school system. His parents, Jim and Diana Tomson, still live in Hood River, as do all of his siblings. As for himself, Beckner hopes to retire in the valley. He enjoys living in Hood River because of everything it has to offer.
"I'm a big outdoors kind of person," he explained, citing interests in hiking, swimming, fishing, hunting, camping and riding motorcycles and four-wheelers.
"There's just so much that's offered in the valley that you just can't get bored, and if you do, there's always something else to start and try," he said.