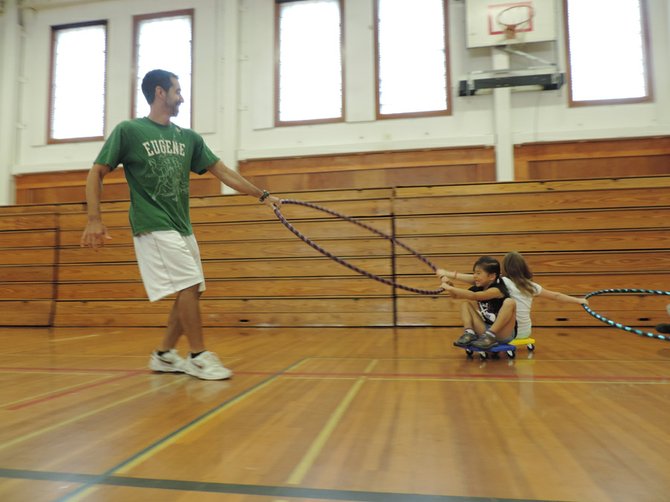 Photo Gallery
Summer: Unseen images from the season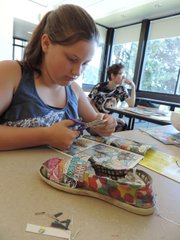 Photos that didn't make the pages of the Hood River News this summer...until now.
The line from Jack Johnson's hit song fit like comfy loafers in not one but two downtown Hood River events this summer: Elena Kroll and Matthew Oldfield make "comic book shoes" as part of the teen craft program at the Hood River Library, guided by Harley Judd. Ireland Wahl, 9, holds "Galaxy" as she waits for artist Courtney Berens to put the design on her new Toms shoes. Doug's Sports hosted the third annual "one for one" program: With every purchased pair, Toms gives a pair to a needy child. Berens was one of nine local artists who painted the custom designs to make such great shoes. In close-up: Nika Kermani paints a floral design.
STERNWHEELER
Temporary tents imitate permanent landscape at the annual Mountain Man gathering at Cascade Locks' Thunder Island, during the Sternwheeler Days festival. As the "settlers" find shade in the late June sun, the triangular shape of the canvas takes on a striking resemblance to Table Mountain and Greenleaf Peak, across the Columbia River in Washington state.
ARREST
A man was arrested at Windmaster Corner on suspicion of stealing Fritz Von Lubken's garbage can and making off with it on skateboard. Deputies and Sheriff Matt English, right, returned the can and other belongings to Von Lubken (left), but Chief Deputy Brian Rockett handled the skateboard, flipping it up and into his hand with a deft tip of his foot, suggesting the lawman has some experience shredding sidewalk.
E. COLI
The water was … fine, for this family that cooled off at the Event Site on July 3. It was one of four days in mid-summer when water quality warnings were posted at the beach following measurements of high E.coli counts in the water. The contaminant spikes quickly faded, and Event Site enjoyed its usual busy summer. (And this mom only let baby's toes enter the water.)
the PINES
A sticking point while moving in: At The Pines Winery's new quarters on Cascade Street, Sierra Wright halted matters July 30 when she saw a small but vexing detail, pulling out a putty knife to remove a piece of gum from beneath the long bar. A crew moved the bar two blocks from the former State Street location, and before it got reassembled Wright wanted to make sure the bar got a fresh start.
KYLE TURNER
Taking his final turns, at least for awhile, in his beloved May Street School gym, Kyle Turner tows kids around the floor on Aug. 15, the final day of his summer PE camps. Turner, most recently a classroom teacher at HRMS, was the PE teacher at May Street in the early 2000s, and is off to Pennsylvania this fall for his master's degree in education.
POMEGRANATE
"Do you know what I am?" Julie Ueland of Hood River Juice Company queried the July 4 parade crowd. "Do you know what I am?" Few knew, but it was clear she was neither pear nor apple. "A pomegranate!" she called out from inside the fabric costume representing the latest fruit to go into the Ryan's Juice line.
LAVENDER MOE
Moe Dixon knows how to entertain. The renowned Hood River troubadour, who never knew a song he didn't know, can fill a room, or a garden, or turn his attention to just one listener at a time. At Lavender Daze near Odell in July, when the photographer positioned himself under an arbor in back of Moe, for an "over the shoulder" shot, the singer suddenly turned and faced the camera for an unexpected angle.
BLUEBERRIES
How can two guys be so serious about blueberries? Is it that John Metta, left, and Bob Fox of Fox Tail Cider in Odell, wanted to make sure in preparing their first batch of unique blueberry cider that they avoided spilling even one precious purple orb? Maybe, except that between mash loads, they busily crammed berries into their mouths. "This is lunch, and they are delicious," Metta said. (The cider should be ready to drink this fall.)
WALLERS
A classic tableau of humans and their canine protector, Marley, enjoying a picnic on an early summer evening (not the blankets) as Dave and Nancy Waller and their daughter Laura settle in at the first concert in the series known as Families in the Park, a Hood River tradition blending good music, good food, and good company. The shows will be back next August.