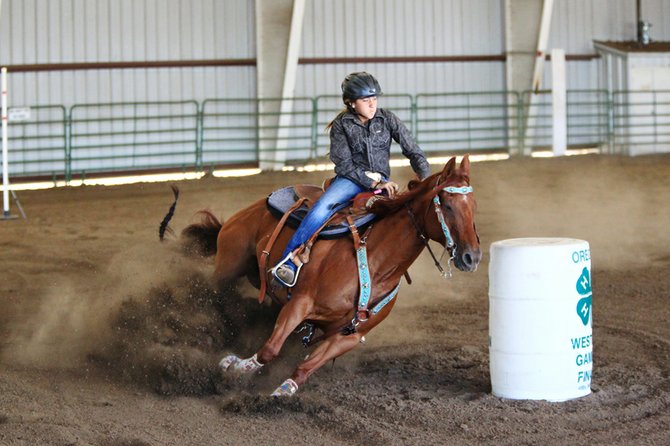 Hood River cowgirl Chantelle Carter capped a standout summer rodeo season by winning the 4-H Intermediate Barrels state championship Aug. 20 at the Oregon State Fairgrounds in Salem.
The 14-year-old captured the 4-H state barrel racing title with a time of 15.16, while riding Ellie, her 18-year-old quarterhorse around the three-barrel course at the state fairgrounds arena. For Carter, who started horseback riding at age 2 and has been riding in competitive style equestrian events since age 6, it was definitely the highlight of her rodeo career.
"It was so much fun competing there and all my hard work in 4-H and everything else really paid off," said Carter, who travels to rodeo events around the Northwest with her mom, Kathy Palmieri. "I honestly didn't think that I was going to win state because this is my first year of barrel racing competition. It's just been a really great summer for Mom and I at the rodeos."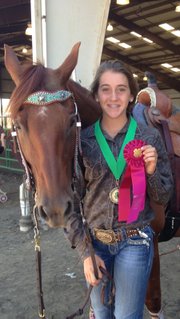 Carter's time was quickest out of 13 entrants in this year's intermediate division. Impressively, her time was faster than the entrants in the senior division, which consisted of 16 other high school riders who were all older than Carter.
"Chantelle loves barrel racing and roping events," Palmieri said. "We've enjoyed entering lots of rodeo events and we've met so many nice people while traveling around the Northwest. We love Ellie so much, but when you're doing the circuit, it takes a lot out of her because she's not a spring chicken. Eventually, we need to find another horse, though, so we can relieve her of all the stress."
Carter entered two of the Oregon State University-sanctioned 4-H events in Salem and she had an impressive blue ribbon winning performance in the Key Race. She timed-in around the 16-second range, while running through two poles and then turning round and running back through two other poles on the course.
Despite the fact that she's not even old enough to drive, Carter is growing into a very talented professional rodeo competitor.
"A lot of people are surprised to see a kid my age competing in the NPRA," said the Horizon Christian School freshman. "It's pretty cool to compete well against some of the best riders in the NPRA. I'm hoping to qualify for the high school state rodeo championships and then I'm really hopeful that maybe I can advance to nationals in Wyoming. It would be nice to earn that kind of recognition and then a lot more people would really start to notice me."
In the last NPRA event she entered Aug. 24 in Goldendale, Chantelle clocked a time of 18.74 seconds for a top-10 finish. At the Fossil rodeo Aug. 10, she had a season-best time of 18.20 for a sixth-place finish. Chantelle has entered a total of six NPRA events this year.
"I've always loved having horses and Chantelle has grown up around them," said Palmieri, who operates a horse boarding barn in Odell. "We needed a place for Chantelle to train during the winter and then some other people wanted to bring their horses here for boarding, so it's been a really good experience."
Chantelle began competing in horseback riding events at age 6 in English Equitation and hunt seat fence jumping. Chantelle has learned most of her riding skills from Teddi Paasch of Hood River and Mandy Marriot of Mollala.
"Many different people have giving me so much information and I've just learned to utilize the skills they've taught me and that's what has helped me become successful," said Chantelle.
Chantelle and Jessica Gifford, a Hood River Valley senior, are teammates who will be competing in upcoming Washington's High School rodeo events. The duo will enter team roping, breakaway roping, barrels, goat tying and pole bending starting Sept. 7-8 at Ellensburg. Rodeos follow in Roy (Sept. 14), Kennewick (Sept. 28) and Wiley City (Oct. 5).