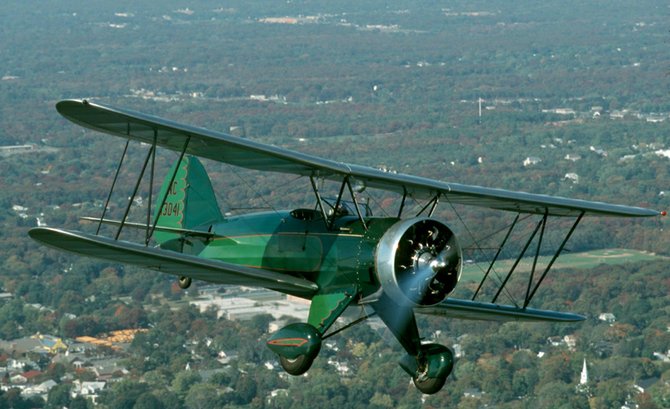 The Hood River Fly-In returns to Western Antique Aeroplane & Automobile Museum Sept. 7-8.
The event will feature hundreds of antique and other aircraft, airplane and helicopter rides, food, author book signings and more.
On display will be planes in the WAAAM collection, in the hangars and on the field, as well as visiting aircraft.
Admission is free to museum members, $12 adults; $10 seniors and veterans; $6 ages 5-18 and free to ages 4 and under.
For more information visit waaamuseum.org.
The event will double as a birthday party for WAAAM, which is turning 6 years old. At 2 p.m. a birthday cake will be cut and served.
Lions Club serves pancake breakfast (event admission required), featuring pancakes, sausage, eggs, juice and coffee, both days at 8 a.m.
Fly-In schedule
Saturday, Sept. 7
9 a.m. — Museum and Fly-in open (until 5 p.m.)
All day — Take a flight in a 1928 biplane, an airplane or a helicopter; prices vary
All day — Aircraft arriving and departing
11 a.m. — Lunch served (until 4 p.m.)
11:30 a.m. — Beer Garden opens
1 p.m. — 1912 Parker-Curtiss Pusher Rollout, with meet-n-greet with members of the Parker Pusher Restoration Crew
2 p.m. — Book signing by author John Trudel (until 4 p.m.)
2 p.m. — Book signing by author Marc Paulsen (until 4 p.m.)
3 p.m. — Airplane judging
6 p.m. — Awards dinner and silent auction: Tri-tip dinner tickets are $20 (Catering by the West Side Volunteer Fire Department)
9 p.m. — Movie
Sunday, Sept. 8
9 a.m. — Museum opens (until 5 p.m.)
11 a.m. — Lunch served (until 4 p.m.)
11 a.m. — See WAAAM's planes out and about (all day)