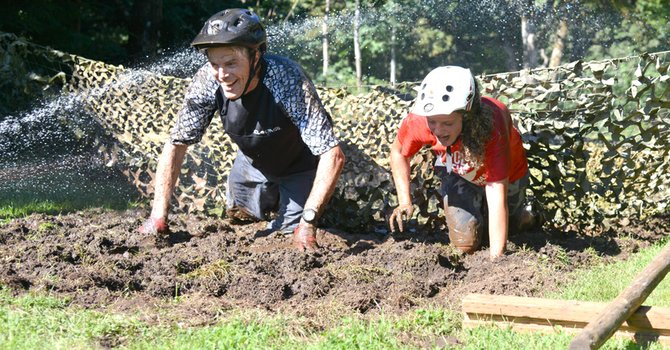 The second-annual Rural Rampage bike race was described by one competitor as "mud, sweat and tears (of joy)."
The sweat came from a 12-mile bike course stretching from Hood River Middle School to Hood River Valley High School, with six locations along the way at which competitors of the adventure-fundraiser event had to stop and complete different challenges. The tears came either from laughing hysterically while completing the various challenges, or simply from sweat dripping into riders' eyes during the sunny Sunday morning event. And the mud (not blood, thankfully) came from the notorious, or famed — depending on how you view army-crawling through a giant mud pit — Fairview Drive obstacle course titled Down and Dirty.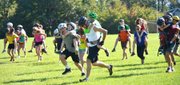 Forty teams turned out for the event, 37 of which were parent/child pairs. After a mass piggy-back start across the Hood River Middle School football field, competitors were given a list of the six challenge stations. Teams could choose the order in which to bicycle to each, complete the objectives and move on to the next. The fastest duo to complete the course was the father-son team Jack and Caleb Trumbull, who finshed in 1 hour 39 minutes.
The Trumbulls strategically saved the Down and Dirty station for last to avoid riding the rest of the course covered head-to-toe in thick brown mud. The duo of high school sophomores Denali Emmons and Sophie Marble finished a close second, followed by HRMS teacher Stacy Claus and friend Ninia Jiminez.
"I haven't laughed that hard on a bike in a long time," Claus said upon completing the race. "It was a lot of fun."
In addition to the physical obstacle course and mud pit, stations included the Conundrum Challenge at Hood River Valley High School, which was a mental task involving symbols and unscrambling letters to reveal a mystery phrase. This station took competitors the longest to complete. Other stations were titled Creature Upchuck, Chopsticks, On Target and Blind Toss.
Organizers were pleased by the turnout, noting that it was about double last year's inaugural event. Proceeds will go to the HRMS teacher grant program, the HRVHS Booster Club and the HRVHS Wrestling team, which supplied more than 20 volunteers to help run the event. With the increased turnout and overwhelmingly positive feedback, organizers are already looking ahead to a new list of challenges in store for September of next year.