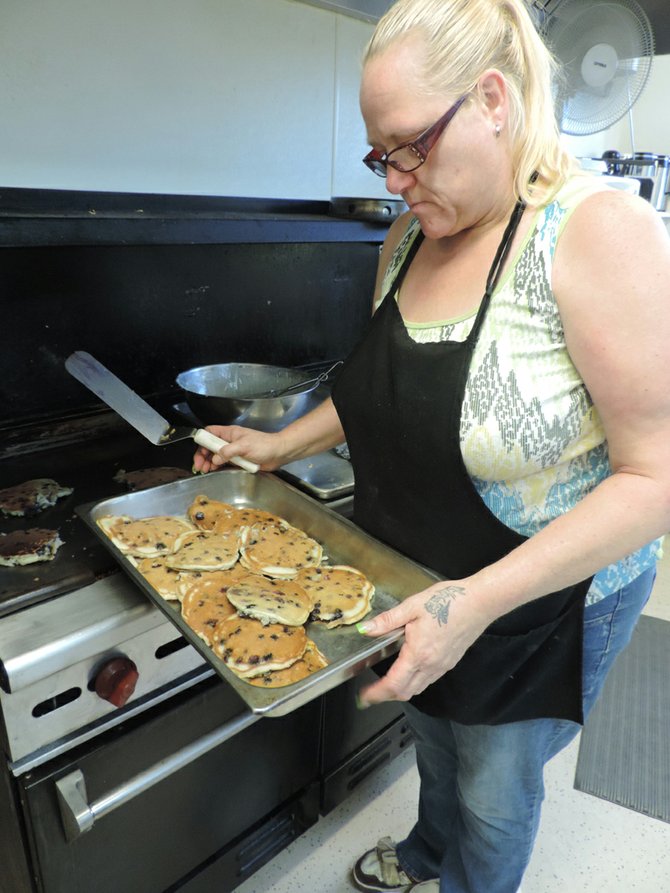 Kim Estey wants more work.
As head of the kitchen at Hood River Valley Adult Center, she prepares and oversees weekday breakfasts and lunches. It is a job she loves, for several reasons.
"Cooking. I just enjoy it. And meeting all the people. You get all kinds of people, and everyone has a story.
"I'd love more people to come," she said. "It's good meals, and we'd love to have more people."
Adult Center serves in house, and Meals on Wheels program
Lunches are served weekdays from noon to 12:30 p.m. Everyone is welcome to dine.
The center is at 2010 Sterling Pl., on the Heights (just off Brookside Drive, west of 12th Street)
Breakfast is served on the second Thursday of each month at 8:30 a.m.
Each meal costs $5.
n
Meals on Wheels is a program that delivers hot, nutritious meals to senior citizens five days a week in Hood River, Odell and Parkdale.
The program provides balanced meals, a chance for volunteer drivers to do a wellness check, and it gives a regular dose of human contact for seniors and disabled people who in some cases have no nearby family members.
Many of the drivers are themselves elderly, and more volunteers are needed.
The center thrift store and bingo programs support the nutrition program, but more help is needed.
If you can provide financial support weekly monthly, or for longer term, contact the center and ask about the Support A Senior program. Donations range from $25 to pay for one week's meals to a full year at $1,200.
"Our goal is to make sure that every senior who needs nutritional meals receives them," said center director Collice Martens-Sinclair.
Go to hrvac@gorge.net or call 541-386-2060.
Adult Center meals are open to community members of any age; the menu changes each day, and you can share a table with others or find your own space. There are ample seats in the well-lit room, which also hosts community events including weekly bingo.
Wednesday's breakfast was a festive one for a couple of reasons: Piano and fiddle music by Diana Allen and Donna Reuter, and the fluffy blueberry pancakes Estey whipped up to go with scrambled eggs, sausage and bacon.
"Kim makes great pancakes," said volunteer Paula Dorzab.
Estey comes in every day at dawn to get the meals prepared. As cook, the biggest question she gets is, "When are you doing your meatloaf?" (That, and her pork chops.) Meatloaf will be served on Sept. 27.
Estey lives not far away from the center, on Eliot Drive. She graduated in 1981 from Columbia High School in White Salmon, lived away from the area until 1989, and moved to Hood River in 1999.
"I started as a volunteer dishwasher and they tried other people to do the kitchen and so I applied and then I became head of kitchen a couple of years ago," she said.
"I love working here," said Estey, who previously served as a resident assistant at Hawks Ridge Assisted Living, which gave her plenty of insight into the elderly.
"You get to know things about people, their sicknesses, their ability to do things," she said. "Each and every one has things they need help with and you gotta be able to be a people person, because they're all different — and being able to have the patience."
On Wednesday, her breakfast crew was Dorzab, of Hood River, who does "everything," and has been volunteering since April, and 10-year volunteer Chuck Blair, who owned Scotty's Restaurant downtown, which was next to Pietro's Pizza.
Pancake diners ranged from Sheldon Pelletier, a part-time Hood River retiree who also lives in Michigan and Arizona, to brothers Josiah and Carter Alsworth, aged 2 and 4, having breakfast along with their parents, Mindy and Joel of Hood River.
Wednesday's breakfast diners included Meals on Wheels drivers, people who serve the many lunch crowd members who never, or rarely, come in: the recipients of the Meals on Wheels senior nutrition program. See page A2 sidebar for more about those programs and their financial needs.
Advertising the center meals this year has helped bring numbers up and gives more predictability to meal planning, but Estey typically plans for more people to eat than actually do.
Does she often have a fairly good idea of the numbers?
"No. Sometimes it's just a couple, but today we have a few more people," she said, gesturing to the 20 or so people having pancakes. "The music is good," she said.
To the art of serving meals, she said, "There is no secret; you just never know." But it is no secret that she enjoys preparing the meals.
"It's a lot of work, but the more people, the better it goes." She means kitchen help, and she and Blair and Dorzab stay busy but work together efficiently, but you get the feeling that Estey also means the more diners, the better it goes.