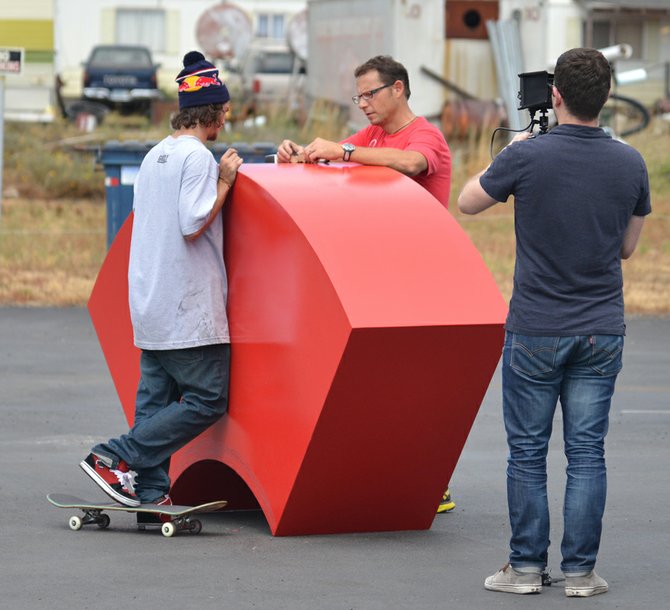 Hood River-based metal and sculpture artist C.J. Rench is in the midst of a one-of-a-kind project in collaboration with Red Bull and world-renowned professional skateboarder Torey Pudwill. Called "Red Bull Skate Space," the project is a massive, multi-piece sculpture that will be permanently installed in Seattle's Jefferson Park. Red Bull is calling the work — made of hollow-form mold and stainless steel — the world's first public art installation designed and built specifically to be skateboardable.
Rench has been working with Pudwill, a California-based skater and entrepreneur, for the last few months to fine-tune the design of the eight-piece work of art, which is planned to be unveiled Oct. 26 at the Seattle park.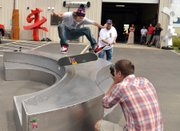 Pudwill, currently labeled one of the best street skateboarders in the world, has come to Hood River to check out progress and offer input on the shape and dynamics of the sculpture. Last month, with just a small patch of pavement to work with outside Rench's Heights-area production studio, and a crew of filmmakers following his every move, Pudwill went to work test skating shiny steel pieces of the sculpture and offering compliments and tweaks to the design that would make it more functional for skating.
Red Bull stresses that the overlying purpose of the project is public art, but the piece is intended to be functional and interactive — to be used by the public in a variety of ways, rather than simply looked at from a distance.
"This is a brand-new concept, and I really believe it will start a new movement in public art," Rench said about the project. After a call-out for artists through the standard request for qualification process, Red Bull chose Rench out a field of dozens of international artists and three finalists who had to make presentations to a selection board.
He was awarded the project in June and has been working on it fairly intensely since, along with a few other works scheduled to be released this year.
"When I read the request I was super-intrigued," Rench said. "The concept is brilliant; a truly multi-use piece of art. Working with Red Bull has been pretty magical. This is a project that has never been done before, and Red Bull is promoting it internationally, so the opportunities that come from it should be pretty significant."
Rench brings a background in the action sports industry to his capabilities as a large-scale metal artist and fabricator; a fit that he and Red Bull saw as ideal for this type of collaborate project. Rench says he skated when he was younger but that "it hurts too much" now that he's older. He says working collaboratively with an athlete of Pudwill's caliber and character has been a refreshing change from his typical studio work.
Once Rench was selected for the project he submitted several designs to Pudwill and Red Bull, and once a general design was selected the two went to work fine-tuning it to maximize both visual appeal as a piece of art and flow and form as something to be played-with by the public.
The scope is a little difficult to visualize, but the largest of the eight pieces will be about 20 feet tall and 30 feet wide — all steel shell with internal reinforcing — and painted a bright red that has become a familiar shade to Rench's work. The layout will be circular, with the largest pieces in the center and smaller pieces placed around the outside.
After finishing constriction in his Hood River studio, the pieces will be shipped up to Seattle, where, in concert with the Seattle Department of Parks and Recreation, they'll be installed permanently in Jefferson Park — home of the city's Jefferson Park Skatepark — in time for a planned Oct. 26 unveiling ceremony.
In addition to the Skate Space project, Rench says he is simultaneously working on four other projects. Interest in his work, he says, is "phenomenal."
"I'm booked about a year out at this point," he said. "Things really picked up when I stopped focusing on galleries and private works and got into the public sector. Once I got into that, things really started to take off."
So far Rench has placed 19 large-scale public works across the country and expects to have two more out by the end of the year. You can see his work at www.cjrdesignstudio.com.