This week volunteers at Adopt A Dog have selected Robin and Ted as the program's adoptable pet of the week. They describe them as follows:
"Robin and Ted are 10-month-old siblings. Their mom was a Chihuahua, and dad was — maybe a Doxie or Kelpie? "Ted is longer and darker than Robin, and they're very bonded and definitely cuddle-buddies! Robin is more timid, but finds her courage when brave brother Ted is nearby.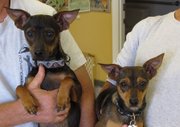 "Both are still puppies, so very silly and playful and fun. Stuffed toys, bouncy balls, and squeaky things are all very exciting for them! But they haven't been around a lot of new people, so sometimes meeting strangers is slow-going, but once they figure out you're OK, the race is on for who gets in your lap first!
"Both Robin and Ted are great with other dogs, and leave cats alone. They would love to be adopted together, if possible — double the fun!"
They're housetrained, neutered, current on shots and microchipped. The adoption fee for them both is $280, otherwise $165 each; cash or check only, please. The fee to adopt is charged to recoup standard veterinary expenses.
Since many of AAD's dogs are in foster care, please call ahead to meet Robin and Ted at the Hukari Animal Shelter, 3910 Heron Drive, Odell; 541-354-1083. Adoption hours are Wednesdays from 5-7 p.m. and Saturdays from 9-11 a.m. Applications may be downloaded at www.hood-riveradoptadog.org and faxed to 877-833-7166.
The Adopt A Dog program offers 24PetWatch microchips, which include free registration into the 24PetWatch pet recovery service.
(For more information visit www.24petwatch.com or call 866-597-2424.)