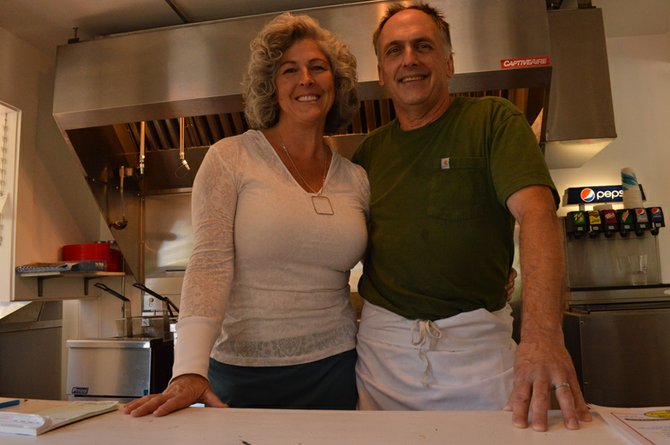 Dana's Xtreme Burgers is just over a month old, but the new restaurant located on the Heights features a local burger recipe crafted well over 20 years ago.
The burger joint is named after owner Dana Sweek: a longtime Hood River restaurateur who has owned and operated several casual dining spots over the years including Sub Shop 15, Dana's Diner, and most recently, the Red Carpet Inn.
His newest restaurant is located in a cozy building at 1213 June St. — the former site of Judy's Hair Cottage, located directly behind Daniel's Health and Nutrition on 12th Street — which Dana himself remodeled. He runs the business with his wife, Linda, and their son, Mason McDowell, a junior at Hood River Valley High School, who helps out on weekends and manages the Dana's Xtreme Burgers Facebook page.
According to the restaurant's one-page menu, Dana has been making his burgers using "Hood River's Xtremely Best Burger Recipe Since 1991." It's a reference to the year Dana opened up Dana's Diner in a small building on the Heights where La Taqueria stands today. Dana said he developed his burger recipe by visiting famous Portland burger joints in the late '80s and early '90s, studying their recipes, and then tweaking them to his liking.
At his new restaurant, Dana can usually be found manning the grill, involved with the preparation, cooking and serving of every order to ensure quality control.
"Dana's motto is consistency," Linda explains. "He wants it to be good every time."
Each one-third-pound burger at Dana's is made from fresh-ground chuck and fresh potatoes are cut for each individual order of fries right in front of the customer. Foot-long "Hot-Diggity Dogs" are also served along with coffee, milk, and soda. The restaurant also has two beers on draft (PBR and Deschutes River Ale) as of now, but Dana plans on adding more beers in the next few weeks to fill up his 10 available taps.
In addition to two kinds of hot dogs, seven burgers grace the menu at Dana's and will please palates ranging from the traditional (bacon cheeseburger) to the adventurous (teriyaki pineapple and Swiss burger). A burger costs $7 — regardless of what kind you order — and comes with lettuce, tomato, onion, and "Dana's Special Xtremely Yummy Sauce." A hot dog and fries will run you a measly $3.50.
When asked what his personal favorite of the seven-burger lineup was, Dana said he couldn't choose.
"They're all kind of special," he said.
n
Address: 1213 June St. (behind Daniel's Health and Nutrition); sandwich boards with logos on them will show you the way
Hours: Wednesday-Sunday, 11 a.m.-7 p.m.
Payment: Cash only
Take out orders: Yes
Phone: 541-386-3042
Web: facebook.com/Danas
ExtremeBurgers