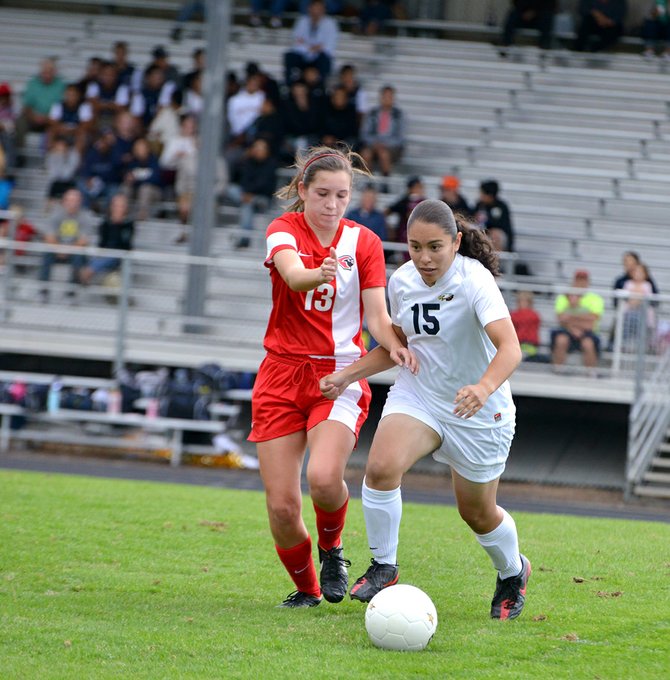 Hood River Valley High School varsity girls soccer team went 1-1 this week in home games Tuesday and Thursday.
Freshman goalie Vanessa Silva had 15 saves in Tuesday's 3-0 loss against an aggressive and physical Lincoln squad that came out firing in the first half to the tune of three unanswered goals. The Eagles rebounded in the second half and upped their intensity to keep the Cardinals scoreless for the rest of the game.
"As the game went on, we upped our intensity and improved," coach Kevin Haspela said of the game. "I was impressed by the girls' ability to stay mentally focused and not give up. We have the capability of playing at the level of a team like Lincoln. To get there, we need to stay focused on playing fast paced soccer and executing technically."
Thursday's home game against Madison provided a confidence booster for the HRV girls, who ran away with a 5-0 win. Collete Zack had two goals, Miga McCurd and Cielo Rivera each had a goal and an assist and Lily Zega had one goal.
"The girls created a lot of scoring opportunities for themselves by working as a team to penetrate to the corners of the field," Haspela noted. "Madison gave us a lot of time with the ball since they weren't quick to pressure, and we capitalized on it. The win felt good, but more importantly the girls played good soccer."
The team is on the road Sept. 21 and 25 (at West Albany and Woodburn) before returning home Oct. 1 for its conference opener against Pendleton, 4 p.m. at Westside.