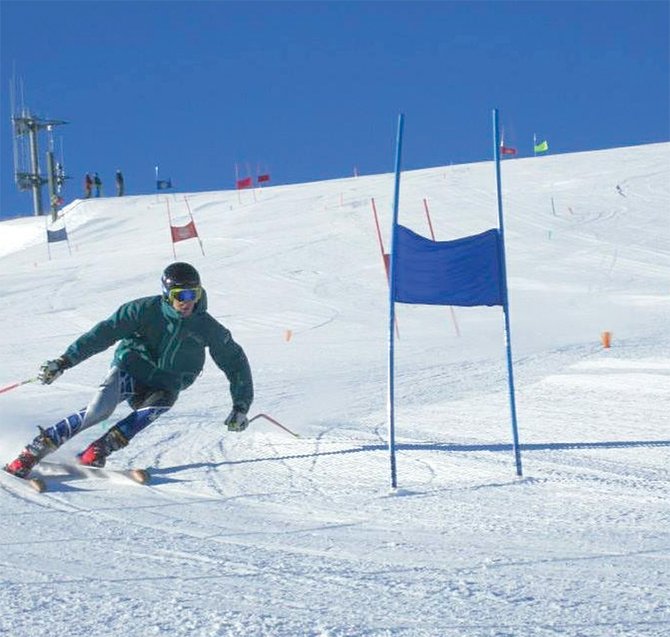 For 16-year-old Montana Kurahara, the end of the winter season means the end of an experience of a lifetime. For about the last six months, the Hood River native has been attending the Sun Valley Ski Academy, a full-time school and training program for aspiring young ski racers in the idyllic setting of central Idaho's mountainous Sun Valley. Last fall Kurahara, a Hood River Valley High School sophomore, packed up, said goodbye to his family and friends and headed east to live, train and study full-time for the next six months with a group of like minded young skiers from across the country.
Before finishing the program and moving back to Hood River, he took the time to reflect on his experience and answer a few questions for the News.
–– Adam Lapierre
Explain your schedule and living situation?
I live in a dorm with about 20-25 other kids. I have two roommates, Sebastian and Vincent, and I sleep in a bunk. My schedule for a regular Monday is to get up at 6:30 a.m., check in for breakfast with an RA, grab my lunch made by our chef, then load into vans that take us to school at 7:30 sharp. We have classes from 8 a.m. to 3:30 p.m., then we get picked up and taken back to the dorms, where I usually go and tune and prep skis for training. Dinner is at 6:30 p.m., study hall is from 7:30-9:30 p.m. and at 10 p.m. we have to be in our rooms; lights out at 11.
For Tuesdays and Thursdays we have the same wake-up schedule but have early morning ski training from 8-9 a.m. Then we go to school till 1:30 p.m., then have another training block from 2-4 p.m.
Wednesday and Friday classes end at 1:30 p.m., then I have a training block from 2-4 p.m. On the weekends we train all day and work on skis or sleep afterward. Sunday nights we have study hall before bed.
Why did you decide to do the program in the first place? Was it hard to leave high school in Hood River to do it?
I decided to go to this academy because I had heard so many great things about it from other friends who attended the academy. I visited the school and dorm last summer and immediately loved it. The learning environment seemed very fun, yet challenging and they seemed to be able to work with skiers on balancing training and races with school work.
It was definitely tough at first to leave all my close friends and family in Hood River. It took a huge commitment, not only on my part, but from my parents as well. I soon found a place here though, and it made me feel like it was a second home.
What are your goals as a ski racer?
My goals as a skier are to compete and try my hardest to make it to a good college or hopefully to the U.S. ski team — although if you ask any committed skier they would say the same thing.
I train so hard because I want to show people what I can do, and what you can achieve if you put all your time and effort into something you love and really focus on it.
Were the winter Olympics this year extra motivation for you?
Watching the Olympics definitely motivated me in how hard I train. Watching Bode or Aksel in the downhill makes me think about how amazing it would be to make it there, to that level; it pushes me to take that extra training run or analyze video a dozen more times to see where I can gain speed.
What are a few things you miss about being home in Hood River?
It's funny because you would think that people would say that they miss their Xbox or sleeping-in, but what I miss most are my friends and family. I always have a lot of laughs with them, and I don't get to do that often here. I also do miss my bed; I have to sleep on a twin-sized bunk bed curled up in a ball. At home I'm used to sprawling out on my king.
How has this winter been there in terms of snow and weather?
In Sun Valley it is always sunny — thus the name Sun Valley. But it is also very cold. They mostly make their own snow, which means it is a very firm and icy surface, which is perfect for training.
What are a few things you really like about being there?
I really enjoy the dorm life. All the kids there are very accepting and make it so fun. The team is also really fun to be around. For as much time as we spend together training six days a week and several weeks in a row of races, it is crucial that we get along and like each other.
Another thing I enjoy is the school system; everyone knows each other on a first-name basis including the teachers. The classes are incredibly challenging, but the teachers are very willing to work with you if you are confused in any way.
This place is amazing. My experience has been so awesome here and I am so glad that I came. I am starting to see the results I want and that was the whole reason I decided to come.