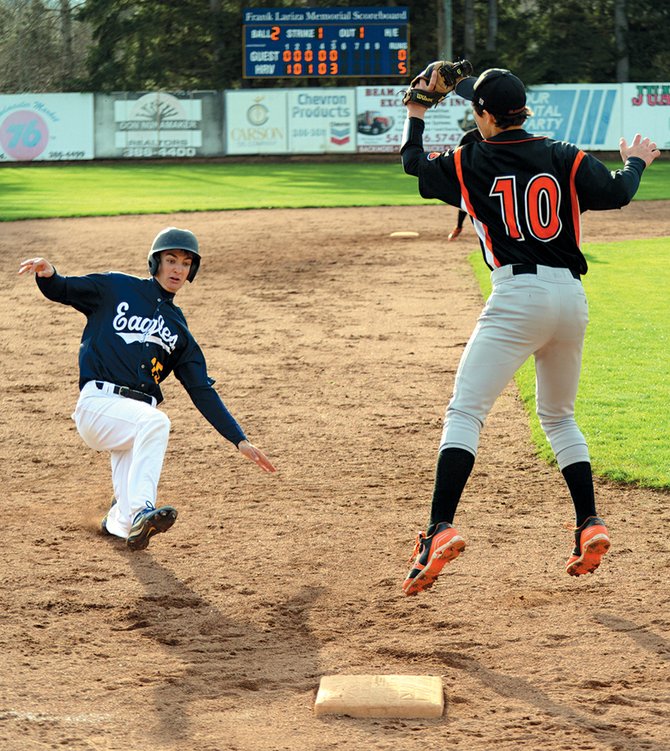 Fresh off a solid 3-1 outing at the Coach Bob National Invitational tournament in Arizona over spring break, the Hood River Valley High School varsity baseball team took the Gladstone Gladiators to the cleaners Wednesday afternoon with a 7-0 shutout at Traner Field.
The Eagles went on the following day to host Summit High in an eight-inning nail-biter. The 2-1 win bumped the Eagles up in OSAA 5A rankings from No. 10 to No. 6 as of Friday. As a show of how tough the Columbia River Conference is this season, The Dalles is currently 5A No. 5 and Pendleton is ranked No. 7.
In Wednesday's matchup, Ryan Ward used poise on the mound and a potent mix of pitches to keep Gladstone's batters off-balance through six innings, allowing one hit and one walk while notching six strikeouts before handing the ball over to Kyle Duffy to close.
Although maintaining a solid defense has been central to coach Erich Harjo's philosophy, it was a hot offensive show — 12 hits in all — that allowed the Eagles to run away with the lead Wednesday. After scoring one run in the first and another in the third, the team blew the game open in the fifth with a disastrous inning for the Gladiators.

Duffy had three hits in the outing, while Ward and Skyler Hunter had two each to lead the team at bat; Duffy and Ward were credited with three RBI apiece.
Thursday's game came down to the wire. The Eagles trailed by one run after Summit got on the board in the third inning but evened the score in the sixth with an RBI by Ward. Alex Jiminez, who led the team at-bat with three of seven total hits, scored the winning run in the bottom of the eighth off a walk-off sacrifice fly by Kam Walker.
Walker and Riley VanHoose split time on the mound, pitching four innings each. The win lifts the Eagles' record to 6-3 on the season with four more games before the start of league play, which kicks off April 19 with a home doubleheader against Pendleton.