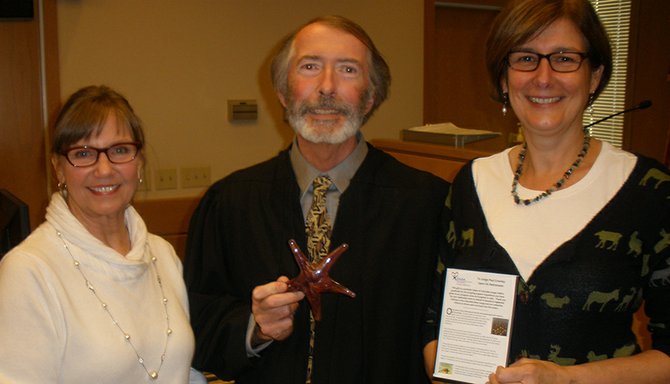 On March 20, 2014, Judge Paul Crowley swore into service his last class of new CASA advocates. Crowley is retiring in July and Columbia Gorge CASA marked the occasion with a gift to honor the vital role he has played in CASA since it began in the Gorge in 1987.

The gift was a glass starfish made by Nichols Art Glass in The Dalles which is a symbolic reference to a well-known story by Loren Eiseley about a boy who threw starfish that had washed up onto the beach back into the ocean one by one.
"You can't help all the starfish," a man tells the boy.
"Maybe, but I helped that one," the boy replies.
In the story, the starfish represent abused and neglected children and the boy represents the collective efforts of Judge Crowley and CASAs to get them back into safe and loving homes as quickly as possible.
To read the starfish story and the plaque given to Judge Crowley, go to CASA's website at gorgecasa.org.