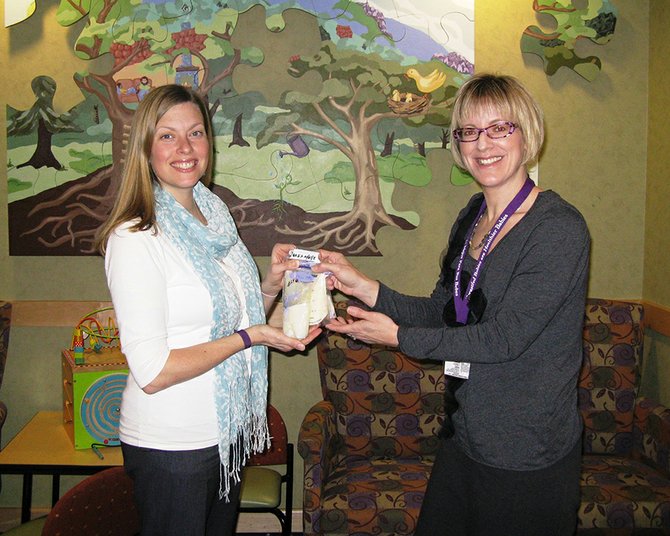 Despite the perpetual "breast versus bottle" debate, breastfeeding has been enjoying a renaissance of sorts lately.
The U.S. Department of Health and Human Services has been promoting breastfeeding with its "Breastfeeding: It's Only Natural" campaign and reports that the number of mothers who are breastfeeding has been steadily rising since 2000. The Affordable Care Act, also known as Obamacare, also requires insurance companies to offer breastfeeding support and equipment coverage without a copay from the policy enrollee.
However, not every mother is able to give her baby the milk that it needs. Medical complications can mean the mother has to feed her baby with formula or find an alternative source for human breast milk.
To help with these situations, Providence Hood River Memorial Hospital has set up its own breast milk program for nursing mothers who produce extra milk and wish to donate. Two weeks ago, PHRMH received its first milk donation from Brynion Berkey, a mother who lives in White Salmon.
Jennifer McCauley, a registered nurse at PHRMH who also serves as a lactation consultant, says giving a baby breast milk in the first few months provides it with a litany of benefits not present in formula.
"When we give babies formula before 6 months, it puts them at risk for a lot of pathogens," she said.
She further explained that breast milk contains many compounds that are not present in formula, and research has shown children who have been breastfed not only are at lower risk for such early childhood diseases as Sudden Infant Death Syndrome (SIDS), but are also healthier later on in life. Moreover, breastfeeding can provide a great way for mother and child to bond.
Breastfeeding isn't always an option, though, especially in cases of premature birth. McCauley explained that sometimes the baby is born before the mother's breasts have begun lactation.
McCauley said the hospital has received supplemental breast milk in the past, but the closest milk banks, which screen and store the milk, were located in Colorado and California.
"Basically, as a system, we used to spend as much on shipping as we did on milk," she noted.
In July 2013, the Northwest Mothers Milk Bank opened in Beaverton, providing a much closer and less expensive option for procuring milk. PHRMH now serves as a drop-off site where local mothers can donate milk, have it sent to the milk bank where it is screened for defects and pasteurized, and then sent back.
McCauley said the faster turnaround and the decrease in expense means that "more babies that need the milk will be able to get it."
To donate, McCauley said PHRMH first conducts a cellphone interview with the mother, who then must come into the hospital for a blood draw and a discussion about her health and habits. After the mother passes the screening, the mother must donate at or above a minimum quantity of milk set by the milk bank.
McCauley said the hospital staff "want a lot of mothers to donate." Currently, PHRMH is looking to achieve a "Baby-Friendly Hospital" designation from the World Health Organization and UNICEF, which honor hospitals that institute policies that provide the "best care to mothers and babies related to infant feeding." Such policies include establishing breastfeeding support groups and allowing mothers to "room-in" with their babies for 24 hours a day.
"We're doing everything we can to increase breastfeeding at the hospital," McCauley said.
To donate call the lactation clinic at 541-387-6344.