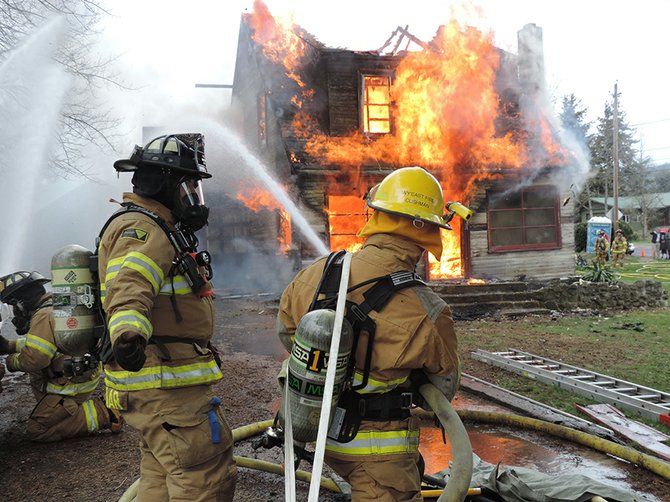 Photo Gallery
Local fire agencies conduct neighborhood practice burn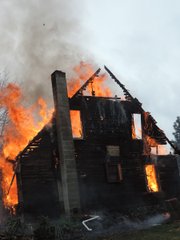 A rare practice burn in a Hood River residential neighborhood gave firefighters from several Hood River County agencies the chance to practice hose handling techniques and other interior and exterior strategies for suppressing a house fire.
The action took place on the morning of April 5 at 22nd and May streets, in a two-story home owned by Jim Melton and Julie Wilcox. "We were going to tear it down anyway, and we know the fire department doesn't get these very often," Wilcox said. A large crowd formed as the flames, whipped by winds, quickly consumed the house.
"This is invaluable as a training experience," Chief Devon Wells said. About 40 firefighters, including some novices, participated. "There is no training that can match what firefighter learn going into a controlled fire like this," Wells said.
Small fires were set in three rooms on the ground floor, and trainees as well as more experienced firefighters took turns practicing fire suppression techniques, communications, and other skills.
The fire debris has been removed and the owners said they are considering selling the property. Wilcox, a retired Oregon State Trooper, had earlier offered the home to the OSP SWAT team, but it was too small for their training purposes.