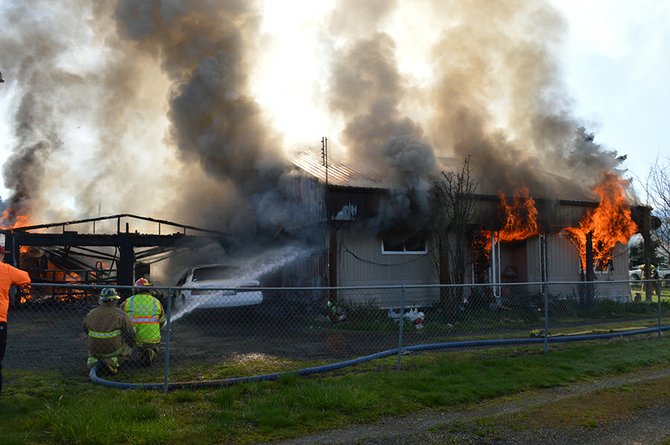 An Odell man is homeless after a fire that started Monday morning in his garage eventually spread to the main portion of his Mud Alley Drive home, totally burning the inside of the residence, and killing at least one of his pets.
Wy'East Fire Chief Greg Borton said his department received a call at 9:36 a.m. of flames visible from the garage on a residential property at 3636 Mud Alley Drive, which is owned by Jerry Bailey. Odell, Pine Grove, Hood River, and Parkdale fire departments were all dispatched to the scene, along with the Hood River County Sheriff's Office.
The fire moved quickly, providing the 20 firefighters who were on scene that day with little to no opportunity to salvage Bailey's home.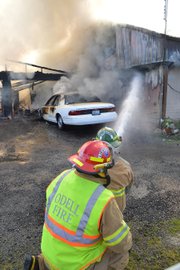 Map
Odell Fire
Odell Fire
"By the time we got there, the garage was fully involved," Borton said, "and (the fire) had started to spread to the north section of the house."
The home is located in a dense, residential neighborhood of Odell and dozens of people emerged from their homes to watch the flames curl from the broken windows as firefighters doused the house with hydrant water.
Bailey was also present, watching his home burn that he had lived in with his late wife, Donna, for four years, until she passed away from cancer in February 2012. He said he received a call from neighbors about the fire at his home and raced to the scene from his brother's shop just a few minutes away.
"The garage was just roaring at that point," he said, "and the corner (of the house) was catching."
Bailey said he had left the slider door open on the north side of his residence for his three dogs and one cat to go in and out on what was an unusually warm and calm early April day. He said he considered going back into the house to look for his animals, but the thick, acrid smoke made it impossible to do so.
"I thought about it, but I can't hold my breath that long," Bailey said.
Firefighters hit all sides of the home with water for about an hour and 20 minutes before moving to rehabilitation, but didn't clear the scene until 4 p.m. due to hot spots. At that point, the garage had been reduced to little more than charred studs, while Borton said the inside of the house was "almost totally destroyed."
Inside the home, firefighters found the remains of one of Bailey's dogs. Borton said that as of Tuesday morning, he hadn't heard anything regarding the whereabouts of the other three pets.
Borton said Tuesday morning that the fire's cause is under investigation, although it is certain that it started in the garage. He noted that the dwelling was a sheet metal, double-wide manufactured home with an addition as well as a peaked roof on top — a design he said may have contributed to the speed at which the fire consumed the home.
"They burn so fast and hot when there are roofs that are built on top of them," Borton said of manufactured homes, which are often flat-roofed.
According to Borton, Bailey elected to stay with his brother, whom he said lives on Dee Highway, as opposed to receiving services from the American Red Cross, which often provides humanitarian aid to those who lose their homes in fires.
As Bailey watched his home burn, he joked with firefighters, telling them they were "remodeling my den." He also joked with firefighters to not break the windows and "watch the wood trim" on his Mercury Grand Marquis — the majority of which also fell victim to the flames. One firefighter obliged Bailey, by pretending to buff one of the fenders of the sedan.
When asked about his demeanor, Bailey explained he tried to find humor in tough situations.
"It's either you laugh, or you cry," he said.