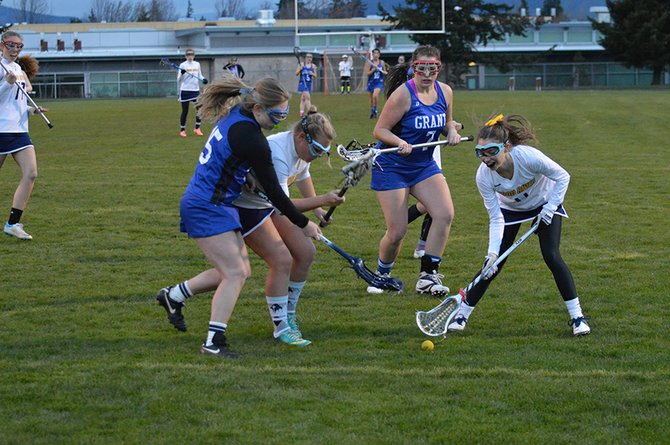 A spirited second-half rally by the Hood River Valley varsity girls lacrosse team wasn't quite enough to overcome the Grant High School Generals, who beat the Eagles, 7-6, during a hard-fought match in Hood River Friday evening.
HRV (1-1-0) chased Grant (2-0-0) throughout the entire game after giving up two goals to start the first half. The Eagles were able to respond in kind, scoring two of their own to make it 2-2 with 11:33 remaining in the first. Grant scored again with 2:03 remaining and marched to the sidelines at halftime with a 3-2 lead.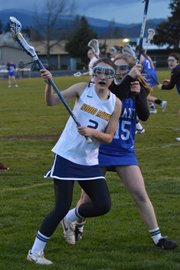 The Generals came out guns blazing to start the second half, scoring three goals within the first three and a half minutes of play to go up 6-2. HRV fired back, putting two balls in Grant's net midway through the second half, but Grant once again paced HRV, scoring with 12:22 remaining to make it 7-4.
The Eagles were able to score two goals in quick succession — one with 5:35 and one with 5:14 to go — to make it a one-point game, but the Generals were able to put the brakes on The Eagles' momentum and grab the victory.
HRV coach Andrew McElderry said that the contest was one that was winnable for HRV, but the team missed out on some scoring chances that could have wrested the game away from Grant's grasp.
"Friday night's game was ours to win," he said. "We just didn't take advantage of a few scoring opportunities. We matched up well against Grant. It really came down to one or two more possession opportunities."
Coming off a six-goal game in HRV's 15-9 win over Cleveland on April 1, Isabelle Cullen was again the lead scorer along with Ellery Hight, who both scored two goals. Delia Dolan and Lydia McElderry rounded out the offense for HRV with a goal apiece, while McElderry, Maddie Belknap, and Ellen Hudon each tallied an assist.
Though the score wasn't in their favor, HRV outshot Grant, 17-12, handily won the ground ball battle, 34-16, and fared only slight worse in draw controls than Grant, who tallied 7 to HRV's 6.
Erin Mayer led the team in the ground ball and draw control columns with five apiece. Savanna Brentlinger snagged five ground balls as well, as did Sophia Finstad, who also caused Grant to turn the ball over three times in the game, which was a team-high. Goalie Zoe Shepard was able to stop five of 12 shots, achieving a save percentage of 41.7.
Coach McElderry noted that with it being early in the season, the team is still working out some kinks, but he's already seeing good things from his players and expects to see more.
"As a team, we are still trying out a few players in different positions, specifically, our low defense," he explained. "On offense, the ladies are moving the ball well and valuing possession. Grant just outscored us by one. We'll get there."
Next up: HRV was scheduled to host Wilson on Tuesday night and then travel to Lincoln High School on Thursday for a 7:45 p.m. match.