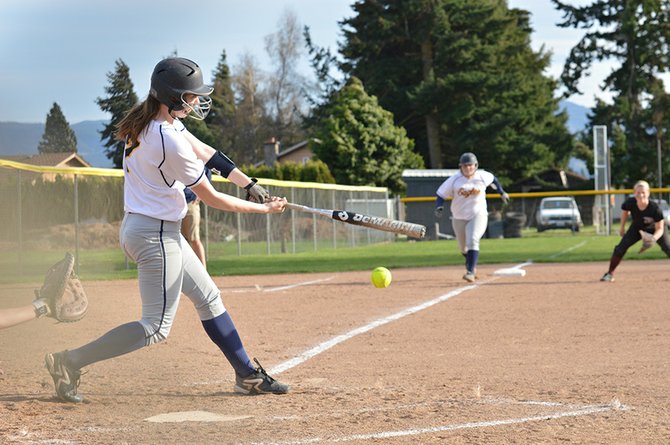 Although the mercy rule went into effect, the Hood River Valley Eagles varsity girls softball team showed no mercy in their 15-0 drubbing of the Redmond Panthers during a game Tuesday afternoon at the Westside Elementary fields.
The one-sided affair was fueled by 15 runs scored by 11 different players, as well as a combined no-hitter from starting pitcher Kayla Byers and relief pitcher Rose Baker. Byers, who pitched three of the game's five innings, threw some serious heat, striking out eight batters and walking one. Baker wrapped up the final two innings by striking out three batters, while HRV's fielders took care of the rest.
HRV Coach Eric Keller was obviously quite pleased with his players' performances.
"We played well as a team," he said. "Everyone contributed offensively and defensively.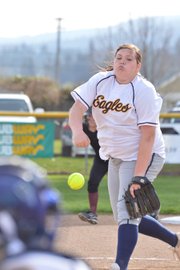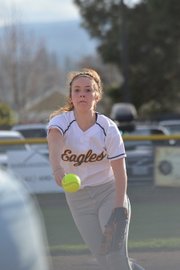 "I was excited that both Kayla and Rose contributed to the no-hitter," he added, noting that this was Byers' second no-hitter of the season.
HRV immediately put Redmond in what would prove to be an insurmountable hole in the very first inning of the game. After holding Redmond scoreless at the top of the first, HRV scored five runs in the bottom of first to go up 5-0.
Neither team scored for the next two and a half innings until the bottom of the fourth, when HRV doubled their effort from the first inning, sending 10 runners home to make the score 15-0. Redmond had one final chance for redemption at the top of the fifth, but were once again unable to score and the game ended due to the mercy rule.
HRV wound up with 14 hits and 14 RBI in the game and committed no errors, while Redmond committed two. Jessie Karr, Annie Veatch, Tabitha Merten, and Jessica DeHart all scored twice for HRV, while Erika Enriquez, Jenni Packer, Byers, Baker, Kelsey Wells, Kainalu Bailey, and Breanna Weekly each scored a run.
Next up: HRV softball goes on a roadtrip to Bend and was scheduled to play Mountain View High School on Friday at 4:30 p.m. and Bend High School on Saturday afternoon at 2.
Results were unavailable as of press time.