A rare practice burn in a Hood River residential neighborhood recently gave firefighters from several Hood River County agencies the chance to practice hose handling techniques and other interior and exterior strategies for suppressing a house fire.
The action took place on the morning of April 5 at 22nd and May streets, in a two-story home owned by Jim Melton and Julie Wilcox.
"We were going to tear it down anyway, and we know the fire department doesn't get these very often," Wilcox said. A large crowd formed as the flames, whipped by winds, quickly consumed the house.
"This is invaluable as a training experience," Chief Devon Wells said. About 40 firefighters, including some novices, participated. "There is no training that can match what firefighter learn going into a controlled fire like this," Wells said.
Volunteer coordinator Kip Miller said, "It gives a firefighters real-world valuable experience on fire behavior. It's like any other house in Hood River where we roll up and they'll know what to expect when they come in here. It's invaluable because we don't get many opportunities like this, because they're so packed in we can't really do it."
In case of fire, close your door
Chief Wells said that conditions on April 4 were favorable for training, in that they were typically windy.
"We're seeing wind-driven behavior: The flames are like a blow torch coming out; the wind blowing from the west is pushing fire out. It's a very dangerous situation," Wells says in the video. "Obviously we won't go into a house when it's like this but (it's instructive) if we get here early in the fire and wind is blowing fire through the house.
Wells notes that the windy situation is a point of public education:
"If people have a fire in the house, shut the door; it keeps the fire contained in the house and lets firefighters fight the fire without the wind driving it.
"It definitely shows the wind-driven aspect of the fire. People think of that with wildland fires all the time, but it's just as dangerous inside a structure fire, especially in an area having a lot of wind."
Photo Gallery
Local fire agencies conduct neighborhood practice burn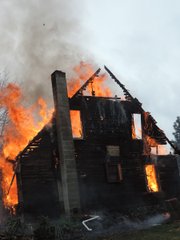 Small fires were set in three rooms on the ground floor, and trainees as well as more experienced firefighters took turns practicing fire suppression techniques, communications and other skills. The fire debris had been removed and the owners said they are considering selling the property. Wilcox, a retired Oregon State Trooper, had earlier offered the home to the OSP SWAT team, but it was too small for their training purposes.
In the case of the 22nd Street home, a fence and neighboring home, along with a shed on the property added to the defensive tactics training.
"We can't burn that fence and they want to keep the garage, so this is a defensive lesson: We are going to protect this exposure," Miller said. "We gotta keep the shed. If we don't, we didn't do our job."
(The crews did their job: The shed was the only thing left standing, other than the lower portion of the chimney.)
Wells gave the trainees an exterior and interior tour of the building before fires we set, telling them, "Know where you are at all times; figure out where you are at, so you can tell the crew you're in the Alpha Bravo corner of the house. Always have that sense of where you are."
Safety in training — and in actual fires — is paramount, Wells said.
"Smoke is fire. Where there is smoke there will be fire. Do not stand up in a room full of smoke because there will be fire," he told the trainees.
"The best part of this house is we were able to get 15 people who have never been in a structure fire before into this house," Wells said. "They were able to see fire behavior, fire dynamics, flow paths, how the fire went through. That's invaluable training. You can't learn this in a classroom. We are very appreciative of the homeowners who donated the house to us."