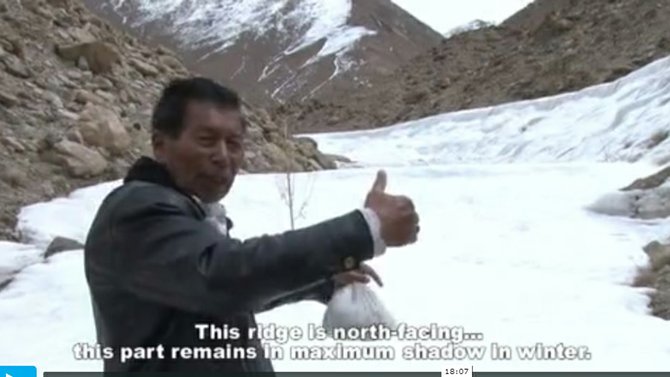 A pioneering method of bringing more ice on the north side of Mount Hood will be the topic of the Hood River Watershed Group's meeting on Tuesday, 7 p.m. at the OSU Extension meeting room, 2990 Experiment Station Road, Hood River (turn north just after Your Party and Rental Center).
"Artificial Glaciers in the Northwest" will be the presentation by Emily Smith and Tom Bennett of Portland State University. This talk will describe a proposal to investigate the potential for "growing" glaciers on the north side of Mount Hood to possibly offset the recession of Eliot, Coe and Langille glaciers, according to Cindy Thieman, Watershed Group coordinator.
This technique was pioneered by Chewang Norphel, a civil engineer in Ladakh, India. Smith and Bennett are both with the Civil and Environmental Engineering Department at PSU. Watershed Group meetings are open to the public.
"Beyond Prayer," a 25-minute film on Norphel and artificial glaciers in Ladakh, by Neelima Mathur, describes how Norphel has created artificial glaciers to provide increased irrigation water in areas of the high, barren Ladakh region in the Himalayas. Norphel is known as "The Iceman" for the techniques he has developed for in building 10 successful artificial glaciers to sustain and expand water resources to farmers
"North-facing areas are easy to form a glacier," Norphel says in the film.
Ladakh is among the highest inhabited places on the planet, at 13,000 in most villages, roughly 2,000 feet higher than the peak of Mount Hood.
The region has seen extensive receding of glaciers, in part because of a 60 percent snowfall decrease in the last 50 years, according to Mathur.
Norphel believes that if more glaciers are created, it will increase the icepack of the area, and have an impact on climate change.
Norphel is "a legend of sorts" in Ladakh among the villagers who have seen a lessened "hardship of water," as he describes the daily arduous task of collecting water from meager local streams.
In Ladakh, the Indus River provides 20 percent of Ladakh irrigation needs; springs provide for daily drinking water and daily needs, but there is not enough spring water available for agriculture.
So Norphel has worked to create systems of diversion channels that route winter water that would normally run off and be wasted, into mountain shadow areas where it freezes and when it melts can be used in the sowing season.
"As natural glaciers receded, artificial glaciers created at lower heights than the natural ones, and they melt sooner to bring water to farms sooner," notes the film. "By releasing a little water over a spread-out area, the glacier has been formed."
Wheat production increased for some villages, and farmers were able to add peas, potatoes and other crops, according to Norphel. In the case of Nang village, 9,000 people have benefited from artificial glaciers in the surrounding area.