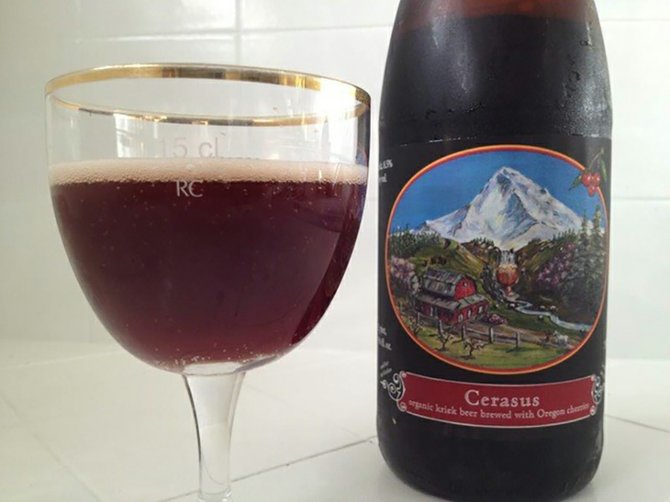 Logsdon Organic Farmhouse Brewery received a gold medal at the 2014 World Beer Cup Competition held in Denver Colo. Awards were presented April 12 and brewer David Logsdon brought home the top honor for Cerasus (Sarah-soos) in the Belgian Style Ale category, out of 54 other entries.
This is the second top award garnered for this organic kriek beer brewed from the brewery's base beer, Far West Vlaming by the addition of fresh sweet and sour cherries. A portion of the beer is aged in oak barrels for up to a year and blended with young beer to balance its profile. A secondary fermentation with Brettanomyces yeast and lactic bacteria provide balance and complexity, according to Logsdon.
In its 2012 debut, Cerasus also won the People's Choice award at Portland Cheers to Belgian Beers. This seasonal beer is released each autumn in 750 ml bottles and limited draft at select bars and restaurants. Cerasus is available at the Logsdon tasting room, on Neal Creek Road southeast of Odell; visit farmhousebeer.com for hours and other details.
Blending works for Solera, Apple Valley BBQ
Solera Brewery of Parkdale presented the second edition of a smoked-malt ale, Good Smoke, in honor of the third anniversary of Apple Valley BBQ, across the street on Baseline Drive.
Good Smoke is available at both establishments, and it's one of three new beers of note at the two-year-old brewery. More on the ales in a moment.
To celebrate the third anniversary, owner Justin White served free pulled pork sandwiches to all comers on April 2, and sold glasses of Good Smoke.
Apple Valley is open seven days across from the Mt. Hood Railroad terminus and the popular park where train riders disembark.
The business started at Apple Valley Country store, which White purchased from his father last year; it remains opens weekends. (Look for the annual Apple Valley Dessert Party and barbecue this weekend at the store, on Tucker Road four miles south of Hood River.)
White said the trains to Parkdale have brought in as many as 500 people per weekend in recent weeks, as riders take advantage of Groupon specials. In addition to menu service at the restaurant, Apple Valley catering does events at the park, at company picnics and other gatherings of up 500-600; White employes 10 for catering, and 6-8 in the restaurant. White said he just added new kitchen equipment, tables and chairs, and paint job on the front of the restaurant.
And White served customers a special Solera brew to go with the anniversary.
Good Smoke is made at the brewery but gains its namesake character on White's smoker across the street. Kahler smoked the malts in four-inch pans with holes to let the aroma in. The result is a medium-dark, smooth drinking ale with a hoppy tinge and a gently smoky aura.
Kahler rolled out his new pale ale, Citra Tantra, over the weekend, which he said he expected to be his busiest of the year.
In the next week or so, look for Kahler's long-awaited sour, Solera Peche, made with local peaches.
Kahler used a German pilsner malt as the base malt for Good Smoke, one that brings out the alcohol without adding a lot of character. "The smoking takes care of that," he said.
He described it as a little less sweet than the 2013 Good Smoke. "I love smoky beers, and last year was the first year I smoked the malts myself; I always bought them before."
"We had a competition at the pub because I couldn't come up with (a name)," Kahler said. "One of our customers came up with the name."
Likely it was a customer who also frequents Apple Valley.
"We do a lot of events together, like if we have a big band, our kitchen is too small, and Justin will bring over food and cater the whole thing," Kahler said.
"It's great to be able to collaborate and not have competition across the street," White said. Kahler and White agree that it seems like the two establishments, on the surface, are competitors, but that's not how it works out.
"My feeling is the more that happens in Parkdale, the more that people want to come to Parkdale and remember that Parkdale is up here," White said, "and they're going to come back because there's a good brew pub, great food, a great grocery store."
Kahler added, "It's awesome, I'll see people who have been over at the pub, then I'll go over to the store and look in the window here and see people who were over there and they're eating. I love that. And vice versa, people bringing food into the pub."
Double Mountain releases Carrie Ladd porter
Carrie Ladd Steamship Porter from Douyble Muntain Taproom and Brewery is now available in reusable half-liter bottles in limited quantities in Oregon, Washington, California, and the Vancouver, B.C. area. It is currently available at the Double Mountain Taproom in Hood River.
This beer is a tribute to the steamship Carrie Ladd that ran freight and passengers from Portland to the Cascade Rapids (Cascade Locks) from 1859 to 1862. This beer (6.6 percent ABV, 43BU) is fermented with Czech lager yeast at ale temperatures to temper the sulfur that this yeast tends to throw. The unique ferment temperature also provides a fresh bread aroma with light cherry fruit overtones to an already rich, roasted, and robust porter. This style was widely popular among the pioneers that flocked to the coastal Northwest for the gold and timber rush.

"It's really the blend of malts that makes the Carrie Ladd sing." brewmaster/owner Matt Swihart said, "Marris Otter pale malts blended with 2-Row English Chocolate, Black, Biscuit, Honey, and Vienna malts all play their strengths here to commingle with the subtle fruitiness of the warmer lager fermentation."