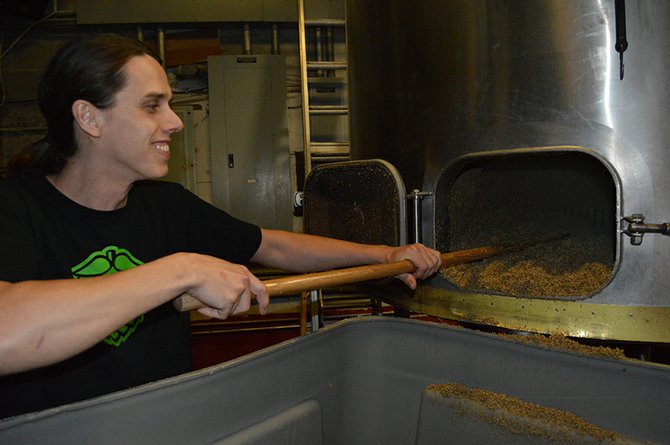 Since Full Sail first opened in 1987, the Hood River brewery has a found a win-win-win situation for how to dispose of its spent grain that's left over at the end of a brew's mashing process.
The spent grain is first trucked to a distributor in Vancouver, Wash. From there, it is sent east to Boardman, where it is fed to beef cattle, and west to Tillamook, where it is fed to dairy cows. Some of the milk those cows produce undoubtedly makes into the cheese and ice cream made at the Tillamook Cheese Factory, which then travels back to Full Sail's brewpub, where it winds up atop a burger or alongside a brownie, respectively.
"It's a vicious circle," jokes Full Sail Brewmaster Jamie Emmerson.
That symbiotic relationship may be too difficult to continue, however, due to an amendment to the Food Safety Modernization Act that's currently under review by the Food and Drug Administration. The law, which establishes rules designed to prevent food contamination, would classify breweries that dispose of spent grain in this manner as animal feed producers and spent grain as animal food.
Emmerson said that designation would subject the brewery to a litany of new and unwarranted restrictions, including requiring the expensive process of drying and packaging the mash, ostensibly, to prevent contamination. The cost would be prohibitively high, and moreover, Emmerson believes the FDA's concern over the potential for spent grain contamination lacks evidence, and merit.
"The long history of using brewer's spent grains as animal feed provides a proven safe track record and is the highest use of this brewery byproduct," he said.
Emmerson's colleagues share his concern. Matt Swihart, owner and brewmaster at Double Mountain, said his spent grain is also used as cattle feed by Gorge cattle farmers, and noted that he's peeved at the potential rule changes.
"Double Mountain produces about a million pounds of brewers spent grain that is sent directly to cattle farmers in the Columbia Gorge area," he explained. "This ruling is completely without forethought and is fixing a problem that doesn't exist. Our spent grains are a wholesome cattle feed product. The FDA ruling would cause us to landfill 1 million pounds of spent grain every year at a very large cost."
Swihart added that the FDA's requirements were "environmentally insensitive" and would create "a giant waste stream that currently doesn't exist," as well as cost jobs and "slow the growth of a burgeoning small brewery culture in Oregon."
The proposed regulations have predictably drawn the ire of the Brewers Association, who believe that breweries should be exempt from these animal food provisions, as alcohol beverage producers already are under the FSMA. Moreover, according to an article in Forbes magazine, the law was designed to regulate businesses that produce animal feed as part of their commercial operations, not as a byproduct of a different commercial enterprise.
Dissenting brewers and cattlemen have caused U.S. Rep. Greg Walden to send a strongly-worded letter to the commissioner of the FDA earlier this month, calling the regulations "absurd," "onerous," and a potential "disaster for jobs and tourism," and asking that she reconsider the proposed regulations.
"To my knowledge, there have not been recorded incidences where spent grains have caused harm to humans or cattle," he said in the letter. "Further, the fact that breweries already operate under numerous regulations and in a sterile environment raises questions about the need for such steps to be taken."
The pushback has caused the FDA to take a closer look at the proposed changes to the legislation. Josh Pfriem, who owns pFriem Family Brewers and also sends his spent grain to local farmers, said he attended a meeting of the Brewers Association in Denver, Colo., last week where it was reported the FDA was "reconsidering" its position.
Pfriem hopes that's the case as the rule change would prove "very costly" for his business, with the Brewers Association reporting it could affect some small brewers' bottom lines by as much as 10 percent. It's unknown when exactly the FDA will make a decision on the rules, but the public comment period is scheduled to end May 31.
Emmerson says if the law doesn't change, it will have far-reaching impacts.
"It affects everyone," he said. "Big and small."