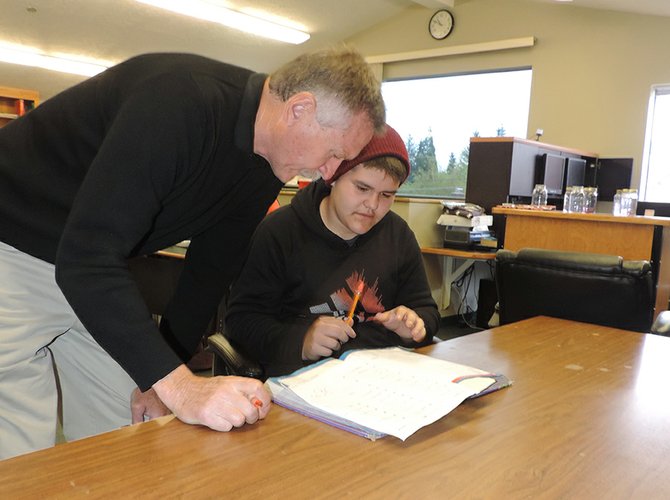 If you're looking for Peter Hardy, you can find him teaching middle school math at Mid-Columbia Adventist Christian School four days a week.
Of course, you also might find him teaching Bible, algebra I, geometry, world history or physical science, biology or health, what he calls an essential living class or typing and computer literacy to students in grades 9-10 — some classes he teaches on alternate years. He also teaches physical education for grades 5-10, and then there's his gig as school principal.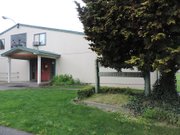 "I teach all subjects except English to grades 9 and 10," Hardy said. "I trade with my 5-8th grade teacher: She does my English, I do her math.
"It's a full day because I don't have a secretary, either, so I have to answer the phone and put out all the fires the teachers bring my way."
This is Hardy's third Adventist school in a long career, but teaching was not his first calling.
Hardy, a Maryland native, graduated from Walla Walla University in Walla Walla, Wash., with a theology degree. Then he went to seminary and received a master's in divinity.
After seminary and ordination, he pastored for two or three years at an Adventist church connected to a school "similar to this one (in Hood River)," when he realized that he really enjoyed working with and teaching children. And that's when he decided to become a teacher and youth minister.
He spent his first 16 years teaching Bible at Upper Columbia Academy, a boarding school 20 miles south of Spokane, Wash., with a student body of 300. He lived on campus in staff housing, where he and his wife, Elizabeth, raised their family. Other benefits included no commute and lunch at home every day with his children, sons Sidney and Malcolm and daughter Katherine. (Sidney now teaches Bible and history at the boarding school and "lives across the street from where he grew up," Hardy said.)
"Of course, I didn't build any equity in a house because I lived in campus housing," he said. "And it was more involved because even on weekends, you had to do supervision."
From Spokane, he and his wife moved to Yreka, Calif., where he taught at Yreka SDA Christian School with a student population of 50 to 60.
"I left the boarding school because my kids were pretty much through school and were in college, so there wasn't the pull to stay there as much as before," he said. "I wanted to get some equity in my own house."
For his first seven years at SDA Christian, he taught Bible in the morning and algebra in the afternoon to students in grades 9-10; his next seven, he added vice principal to his title.
"Once I had that position, they wanted to make me principal," he said. He taught all subjects to 9-10 graders in addition to his duties as principal.
After 14 years in Northern California, he was ready for a change. He had come to know the Columbia River Gorge, specifically Hood River, during the initial windsurfing boom while living in Spokane.
"I got into windsurfing in 1985 and always wanted to live here, but there wasn't a job here in our school system," he said. While in Northern California, the job at Mid-Columbia Adventist Christian School came open and, as he said, "I was lucky enough to get it."
Elizabeth had connections to the area too — her father owned a sawmill in Cook, Wash., in the 1950s. And, perhaps most important, she "liked Hood River better than Northern California," said Hardy. "It's pretty barren."
And that is how, nine years ago, the Hardys came to live in White Salmon. "I love it here," Hardy said. "I do windsurf still, but don't get out there as much as I'd like.
"It was more fun when my sons were able to go with me," Hardy added. "We'd just be out there all day long."
Mid-Columbia Adventist Christian School has a student body of 60 that includes kindergarten through 10th grade. The school runs from 8:30 a.m. to 4:30 p.m. (kindergarten until 3:30) four days a week — the results of a parent vote. Four full-time teachers — including Hardy — and four teacher's assistants means a "pretty good" student to facility ratio, he said.
The school and its staff are fully accredited, so students can transfer back to the public school system with their credits going "straight across the board," Hardy said.
The school generally adds students throughout the school year as parents "look for help for their child," Hardy said. "I think a lot of people see our school as a private school, which it is, but the number one thing is that we're a Christian school, so when a parent comes with a child who needs to get out of the public system, I point that out to them and ask how their child feels about being in a Christian school."
Hardy said that what many people don't realize is that the school is non-denominational.
"Even though we're a Seventh-Day Adventist school, only 15 percent of our students are Seventh-Day Adventist," Hardy said. "We have Catholics, kids who have an Eastern religion, Protestants, Mormons … we have a very diverse student body."
While Hardy really loves teaching — "I enjoy being around students," he said — one of the highlights of his career stems from his initial calling to be a pastor.
"I am an ordained minister still, so I got the opportunity of marrying off my kids," he said.
Hardy turns 63 at the end of this month, but he's not ready to retire.
"I'm thinking 70 unless they kick me out of here," he said. "But we plan on retiring here. We've kind of dug-in, and I can't think of anyplace else I'd like to live."