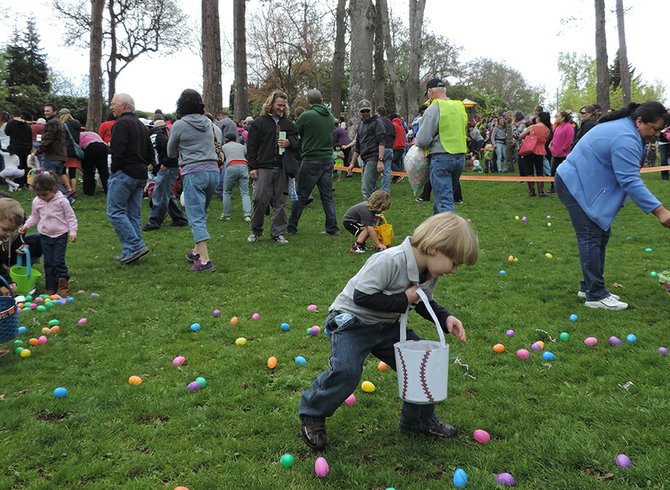 Several hundred young children (with parents' help) scooped up a total of 6,500 eggs at Saturday's annual community Easter egg hunt in Jackson Park. Some of those eggs were refilled on the spot and distributed again by "secret egg layers." The Easter Bunny was on hand, along with Sparky the Firedog.
The egg hunt got going with a blast from a fire truck horn, but not until the Easter Bunny led the kids (well, some of them) in a "Hop for Health" to the fitting song, "Let's Get A Little Crazy." With the horn blast, it was pell-mell for the plastic ovals. Most kids carried bags or plastic or woven baskets, but some had handmade bags, such as the bunny-ear bag carried by Chase Mooney, 4.
"It's always so much fun to see kids having so much fun," said Rev. Jeff Mueller, who organizes the event with the help of others from the Columbia Gorge Fellowship of Churches. Saturday brought generally cool temperatures and afternoon rain, but the 11 a.m. egg hunt benefited from a bright and warm spell.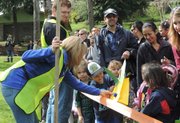 Families seemed to enjoy the occasion, and there were few crying incidents, and no collisions, despite the rush of kindergartners and youngsters most of whom were accompanied by at least one smartphone-wielding parent. "Not even a bandaid, and that's amazing," Mueller said.
Sparky the Firedog stood high over the park on the fully-extended Tower 3, owned by the Hood River Fire Department, as the egg hunt and the annual Safety Fair overlapped. Kids learned about bicycle and fire safety, and met firefighters and police officers, forest rangers and others, and checked out fire trucks and police cars.
Some kids posed for photos with four furry characters: Easter Bunny, Panda, Sparky, and Smokey Bear.