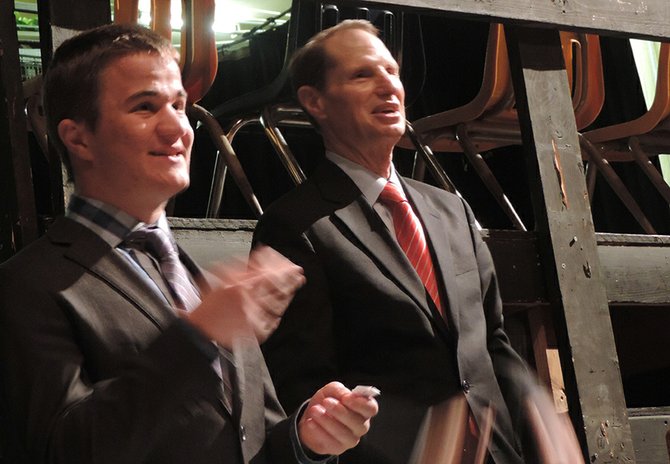 When Ron Wyden told an auditorium full of students, "Let's focus on the big issues and just have some fun," he went first.
"How many of you have never been to a town hall meeting?" Oregon's senior senator asked. "What happens at a town meeting is I talk for about an hour ... and um, it's really interesting."

As bits of nervous laughter rippled around the room, Wyden stopped and pointed to the side of the auditorium: "Those guys over there think I'm serious; they're thinking, 'How do I get out of here?'
"This is not what we do at all," Oregon's senior senator told the audience in the April 15 event at Hood River Valley High School, one of four town halls he held in the Gorge in a two-day period.
Town halls are a Wyden staple, and the audience at this one was comprised mostly of HRVHS students; though it was open to the community and some citizens attended as well. When Wyden, a Portland Democrat, first ran for election, he made a pledge to have an open town hall meeting in every county every year.
"We're going to just sort of do it the way the founding fathers had in mind and I'm going to hear from you about what's important and I'll give you my take on what's going on back there (in Washington, D.C.)," Wyden said, adding that he always relishes chances to talk with student groups. He recounted how, upon a recess in the 2012 government shutdown showdown, colleagues scoffed when he told them he was going to Oregon to visit high schools and listen to students.
"It is so important that people particularly in Washington listen to your generation. I told them 'I've been watching what's been going on in this shutdown and I'm going home to find some adults to talk to,' and that's you guys."
Teachers and other adults asked a few questions, but most of them came from students. Here are the issues raised and excerpts from Wyden's responses:
College costs:
Asked, "How do you plan to keep it affordable to the middle class?" Wyden said he has introduced a bipartisan bill with Sen. Marco Rubio, R-Fla., the "Student Right to Know Before You Go Act," which he said will allow students to know "not just things such as debt level and costs, and percentage of remedial education, but what they would be likely to learn if they graduate from that school. For the first time, you'd have market, competitive forces, to force schools to give more value to your generation."
What is the best part of your job?
"Really what we're doing today. I'm on the three best committees in Senate: Finance, Energy and Intelligence, but what I like most is being home and doing this sort of thing. For a lot of Oregonians, Washington, D.C., might as well be outer space; it's like 'What are you guys doing that has any relationship to what I care about?' So I especially like being home and talking about sort of, 'What's the real-world implications of what we do?' It's getting into the stuff that your generation cares the most about. How we're going to make our way in a global economy."
Coal rail transportation
"The rules with respect particularly to oil trains, have not kept up with the times. We look at a lot of the trains and systems, they were made for log and lumber that was much smaller and really were designed decades ago. I and Sen. (Jeff) Merkley have been pushing hard on the Department of Transportation to tighten up safety standards. We have to make sure we have modern transportation ... particularly with the development of gas and oil in the Dakotas. The Secretary of Transportation has introduced new rules, and it's a step in the right direction, but I think more is going to have to be done."
In response to a follow-up question on why oil companies and train companies expect taxpayers to pay for the environmental costs of transporting oil and coal, Wyden said, "This is a safety issue. It has interstate implications. It is a federal issue. This is an area where the federal government has a safety responsibility."
What do you do in your job?
"The job really divides itself being home and being in Washington, D.C. I chair the Finance committee, and it has jurisdiction over taxes. I'm a strong proponent of tax reform. I liken it to a rotting carcass that's smelling worse every year, because it's not doing what we need to spur growth and jobs. I serve on the Energy committee, and I appreciate that last question on oil trains and what is needed, and I'm also on the Intelligence committee, and I was among the first to blow the whistle on practices such as tapping phone records. It's violating your privacy. In Washington I focus on those areas, and when I'm home I try to get out and be available as much as I can and that's why I'm here today."
Military deployment
"Is it keeping us more free and safe and is it money well spent?" one student asked.
"I think we can roll some of that back. I'm concerned some of those obligations that might have made sense 20-30 years ago might not make as much sense anymore. A big part of what keeps us safe is to have modern intelligence gathering, which is really the key often to deal with these groups that are not aligned with any nation and often represent terrorist threats. And I think in many cases we can do more for our national security by focusing on intelligence gathering than we can in spending these additional sums on all of these older approaches — and, yes, we do need troops in certain theaters, but we certainly don't need them in over a 100 countries and I support rolling that back."
The economy
"I think it's getting better, but not fast enough. It's getting better in the metropolitan areas, but in a lot of rural areas they're still hurting and that's why I'm trying to pass forestry legislation to get our harvests up and I think we can do that consistent with environmental laws."
Marriage equality — "Are rights getting better?"
Wyden praised the repeal of the military's "Don't Ask Don't Tell" policy, and said, "My view on gay marriage, and I was among the first in Congress to say it, is 'If you don't like gay marriage in America don't get one.'" That yielded his loudest applause of the session.
Trade agreements
Referencing the proposed Trans Pacific Partnership Agreement, which is supported by President Obama, Wyden said, "This is very important to young people because one of six jobs in Oregon depends on international trade, and they often pay better than non-trade jobs. The question is 'How do we protect middle-class jobs?' I don't think there's enough enforcement of current trade laws."
What is being discussed now with the TPPA "is not final," he said, adding that he is concerned about how it addresses principles such as enforcement and protection of digital goods. Referring to Internet rules he helped derail a few years ago that would have threatened cyber access, Wyden said, "I don't want to see trade agreements bring that kind of thing back."
(To a later question he said earlier proposed restrictions on the Internet were based on legitimate concerns over piracy, "but I thought it was a mistake the way they were going about it, including changing the domain name system, the architecture of the Internet. We have a big education job to make sure policy makers really understand what is at stake with these regulations. This is one of the things I am going to have as a priority as long as I'm in public service.")
Marijuana legalization
"With respect to personal use I strongly support making this a low priority in terms of law enforcement. I know the arguments for and against, and I am not there, and I need to listen more to both sides."
Ukraine
"We need to continue to ramp up the sanctions and use our economic muscle to effect things. The Russian economy is in rough shape and these sanctions are having an effect. We should also look at ways to help those countries who might be threatened by Russia to be energy independent. Let's get them some of the technical expertise to tap some of that energy and shape their own energy independence."
Minimum wage increase
"There is a big debate on what the effect of the minimum wage would be. The question is, 'Where would that money go?' Overwhelmingly, people use that money at the local level. They go to the food store; they buy gas; they pay the rent; they use it for necessities here at home. They're not taking their modest increase in minimum wage and going on vacation to Paris.
I'm of the view, and I have been watching the employers who have voluntarily raised the wage, that (the increase) is a useful tool to keep good employees, and I think what we gain from people using that extra money in the local community is an economic multiplier that causes all of us to win in the end."
Affordable Care Act
"The Finance Committee that I chair has jurisdiction over this," he said, and added that following the change in Health and Welfare leadership, "we will take stock."
Wyden called Cover Oregon "a huge mistake."
"On the Affordable Care Act, there are plenty of aspects of this that can be done and ought to be done, with Democrats and Republicans working together. I think it would be a huge mistake as some have said, to repeal the law, to just get rid of it, because if you repeal the law you go back to the days in America when health care was for the healthy and wealthy. You could go back to the days when insurance companies can discriminate against someone who has a pre-existing condition.
Make no mistake, it takes us back to days America does not want to return to, where health care was literally for the healthy and the wealthy in our country. Improvements, yes; turn back the clock, no."
Immigration and citizenship for students
"I have been a strong supporter for the DREAM Act, and I support comprehensive reform. The system today is dysfunctional. It does not work for anybody. So I voted for the Senate bill which at least starts us in the direction of enforcing the laws on the books and for people who had been here undocumented and here illegally, come forward voluntarily, pay a fine, show you mastered English, that you have not committed any other crimes, and you have the opportunity to be on the path to citizenship."