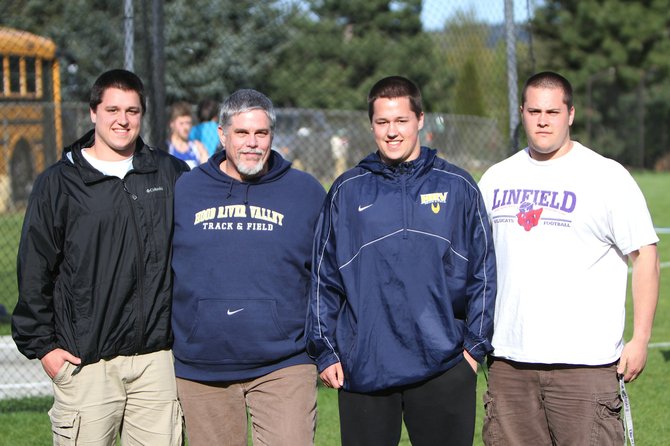 Dave Fults has a dual perspective of Hood River Valley High School: He teaches government, advanced government and "economics as needed" to seniors, but he's also a parent; three of his four boys have graduated from HRVHS (Ritchie, Seth and Eli), and his youngest (Sam) is a sophomore.
And yes, he's had his sons in his class.
"It gave me some amazing insight," he said.
Fults began working at the high school 23 years ago in the English as a Second Language program — ESL — but for the past several years, he has taught social studies classes. Having his sons at school has given him insight on how invested his coworkers are, not only in his children's successes, but in all children, he said.
"People just don't know how much some of these teachers put into their job, not just as a job, and their kids," he said. "I'm humbled by the hours, the creativity, the passion they put into trying to do the best for the kids. It's a building full of people trying to do what's best for kids from the administration on down. That's what makes us a great district and a great school.
"It's overwhelming when you get to see that side of it," he said.
Fults' own education was diverse. He was born in Escondido, Calif., and when he was almost 5 years old, his parents moved the family to Costa Rica to serve as missionaries. They stayed "for a little while," and then moved to Cali, Colombia, where they spent the next 10 years.
"It was still famous for coffee back then," he said.
Growing up in South America "let me have a different culture, learn Spanish … it was a little different that way," he said.
When his family moved back to the U.S., they settled in Eugene, where he graduated from high school. He took time off before attending and graduating from (then) Western Oregon State College in 1987 — where he met wife Joyce, Mid Valley Elementary librarian and 1988 graduate — with a bachelor's degree in education with an emphasis on social sciences. He received his graduate degree, also from WOSC, in 1994.
Because he graduated from college at age 27, teaching "is still fresh for me," he said. "I know what it's like to have a job and work hard, like as a bricklayer.
"I keep telling my kids one of these days, I'm going to have to get a real job," he joked. "Most Mondays, I don't dread going back to work. Being here 23 years, it still amazes me we get to come in to do this."
After graduating from college, Fults did a lot of long-term substitute teaching in the Salem and Monmouth school districts before he and Joyce found jobs at a private school in Sisters, Ore., and moved to Bend.
That school closed for financial reasons, and the Fultses — who had just adopted son Ritchie — moved to the Madras area, to live and work on Fults' college roommate's farm. While there, he subbed at both Madras and Culver high schools, where his ability to speak Spanish was in high demand; there were no Spanish-speaking staff members at Madras High.
While in Madras, he sent cover letters everywhere, he said, looking for another full-time teaching position. He interviewed at HRVHS — on a day's notice, receiving a job offer to start the very next day — and began teaching ESL.
But before he went in for that interview, he drove around the entire HRVHS campus to get a feel for the school and the community.
"I just knew right away this is a great place," he said. "I'd actually taken a lot of cultural geography classes, and the landscape doesn't lie." The grounds and building were well-maintained, which said a lot about how invested the community was in the school, he said.
"Twenty-three years later, I was right," he said. "It is a great place and people value what goes on in this building."
To parents concerned about their children entering high school, Fults says not to worry. "They're going to be well taken care of," he said. "This is a safe place. Ritchie was taken care of; your kids will be taken care of."
Ritchie has Down syndrome, and the Fultses adopted him when he was 8 years old ("Joyce had him in class. It was one of those things. He needed a home"). He went through HRVHS' high needs program, and Fults was constantly amazed by the care he received by both staff and students.
"Just seeing how he was treated by staff and the student body … when you've got a kid like that, you feel protective," Fults explained. "Just to watch how the kids took care of him … Lots of them had no idea he was my son. Sometimes I was almost put to tears by how they took care of him."
Ritchie is 30 now, and sons Seth and Eli both attend Linfield College, where they play football — they're in their junior and freshman years, respectively. Sam is at home and is also active in sports, and Fults enjoys cheering all of his boys from the sidelines.
The Fultses have lived in Hood River longer than they have lived anywhere else, and here is where they plan to stay "as long as the good Lord lets us," he said. "We live in a place where people come to go on vacation. We have all the benefits of an urban center without having to live in an urban center."
He worries, though, about kids — and not just his own — who leave the valley for college and have no way of coming back after graduation because of a general lack of employment opportunities.
"It's kind of sad to know that (lack of employment) is going to limit the number of kids who come back," he said.
One thing he does not worry about is the education high school students receive in the Hood River County School District.
"As a teacher, and also as a parent, I can't imagine there's a better high school in the state of Oregon and in the country," he said. "My boys were the college type kids, but they were so well prepared for going to Linfield that it's amazing to me. It's humbling — some of the teachers we have here do such good things."