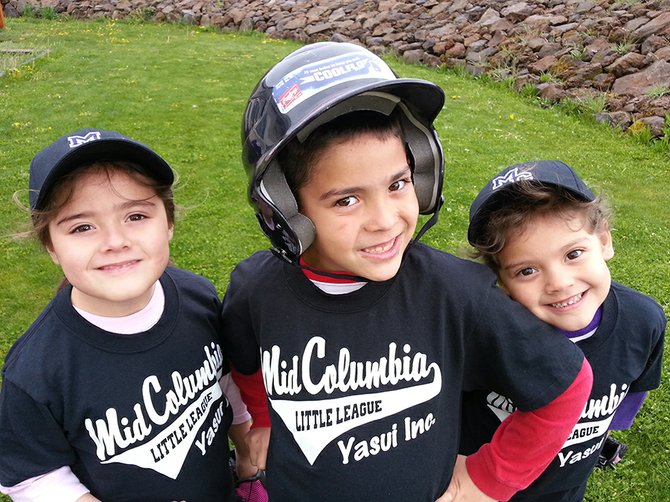 "Take Me Out to the Ball Game" is playing on every station in the Yasui household. Half of our eight grandchildren are playing one form or another of baseball. The remaining four will spend many hours on the bleachers watching their cousins or siblings play ball over the next few months. It is a time-honored tradition in the Yasui family.

Ray "Chop" Yasui, my husband's father, was an avid ball player, in high school and on into adult hood. He played on a segregated Japanese American baseball team in the Gorge, traveling to play against other Japanese and Native American teams in the area. He played ball at Tule Lake while interned during World War II and several years after his return to Hood River he played ball in Odell.

We have home movies of the opening ceremonies of an Odell baseball game with Chop in uniform, slapping a ball into his well-worn glove. Times were different then. My own father told mind-boggling tales of playing baseball on 6-foot-long wooden skis on the slopes of Cooper Spur, a story I believed to be pure fabrication until I found postage stamp-sized black-and-white photos of the ball team resplendent in their Crag Rat checkered shirts, racing around a makeshift diamond in the snow. Sounds like a new Winter Olympic sport.
n
Chop's sons, Flip and Tom, played Little League and high school baseball when they were young. As Flip's family grew, he began assisting as a coach for his sons and daughter. I came along for the ride as well. The games were not taken too seriously until the Little League All-Star Teams were formed. Then the atmosphere shifted to a more competitive bent.
There was such a sense of family as the kids played games in the early summer. Vacations were spent in cheap hotel rooms in Hermiston, Pendleton, Madras and Bend watching the kids play ball. Evenings were spent on the practice diamond, fielding foul balls or visiting with other parents and grandparents as they diligently sat on the bleachers, cheering even the smallest accomplishment of the team.

We find ourselves on the bleachers alongside the same families once again, dragging our cushions and quilts to fend off the spring cold, doing grandparent duty alongside the Hinmans, Trujillos, Guertins, Routsons and Moores.
The game seems to have become much more competitive. More games are being played, more practices held. There are traveling teams, batting and pitching coaches, two- and three-day tournaments. It is tiring. I long for that simpler time, when the kids played just for fun.
Yet who am I to say they are not having a blast? There is an abundance of cheering from the dugout among the 11- and 12-year-old girls. They even bust out some dance moves when the going gets tough. While it is no fun getting trounced, the tide can turn from one game to the next, on the losing end in the morning and on the winning team in the afternoon.
That was the way it was in The Dalles this last weekend. A close game, where tiny Bella Moore led the team with some fancy fielding and hitting, to a trouncing at the hands of a "semi-pro" Pendleton team. There was a resounding win against Goldendale and another trouncing by the Sisters of Something.
n
If the competition is too much for these aging spectators, we simply head over to the coach pitch T-ball team of Yasui Inc., playing on the Odell field. Coached by our son Corey and several of his good friends, we can watch our three grandchildren Rayla, MacKenzie and Cooper try their hand at this entertaining game.
Boys and girls play on the same team, ranging in age from 5 to 7. They seem to know that you should run toward the ball, rather than away, and that base running is counter-clockwise. Those are big accomplishments from first-year T-ball. Although there were 16-18 games on the schedule, you can bet that only 10-12 will get played.
What hasn't changed is the spring showers that make the fields soggy and game cancellations frequent, and the priorities of these little players, the same as previous generations; the snack shack is the biggest draw, with picking dandelion puffs and drawing pictures in the baseline running a close second. Shades of Mayberry RFD.
This season is a time of change. Mid-Columbia Little League has become one league, rather than four different small-town teams. In years past Parkdale, Odell, Hood River and White Salmon each had their own teams, holding their own opening day ceremonies and main street parades. Getting used to the new system will take time, but in a year or two this will be the collective memory of Little League for a new generation of kids.
While we missed our little hometown parade from Mid Valley Elementary through downtown Odell and across to the ball fields, nothing precludes us from ending the season with a local parade and barbecue. We might even have better weather in June.
In the meantime, we will enjoy the camaraderie on the bleachers and in our folding chairs. We will relish in the players' accomplishments, and the way they field disappointment. We will nurture their sportsmanship and skills. And we will relish the laughter and smiles and friendships built on their Field of Dreams.