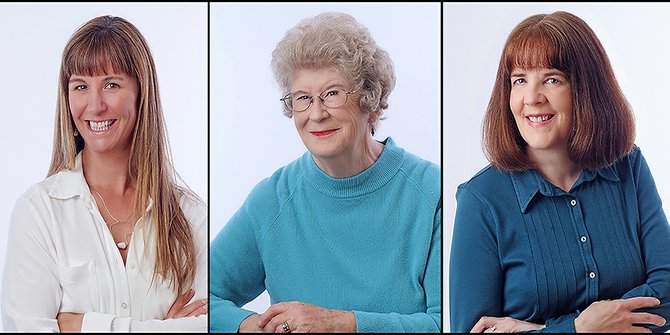 Jacquie Barone, Lorinda Hoffman and Bette Lou Yenne have been named as the 2014 winners of the Soroptimist International of Hood River's Women of Distinction Award.
Each year since 1975, Soroptimist Hood River has worked with community leaders and organizations to honor women whose work in a professional or volunteer capacity has made a significant difference in the quality of our community.
The three women will be introduced by their nominators at an awards luncheon in their honor on Wednesday, May 14, from 11:30 a.m. to 1 p.m. in the Gorge Room at the Best Western Hood River Inn. Tickets for the luncheon are $18 each and available at Waucoma Bookstore.
n
In her nomination of Jacquie Barone, Cathy Carter said, "Whatever Jacquie does, she does with her whole being. Her commitment to any cause is immense; she has a huge heart and is always willing to give."
Jacquie Barone started the Hood River Downtown Business Association, has served on the Chamber of Commerce, and organized many community events. She is well known for her beautiful volunteer landscaping work at the Hood River Waterfront Park and the Willow Ponds Residential Neighborhood.
n
"Bette Lou Yenne has impressed me with her amazing commitment to the community," says her nominator, Buzzy Nielsen. "Whether through her involvement with FISH Food Bank, Asbury/Our Redeemer Partnership, or the Library, Bette Lou truly has improved the lives of people throughout Hood River County."
The Library credits her as one of the major organizers of the second and successful library campaign. She volunteers weekly at the Cascade Locks food banks and while there, passes out free books to children who come. FISH also commends her for doing the exacting work to get FISH organized as 501(c)(3) organization. She is now working on fundraising for the new FISH building.
n
While her children were young, Lorinda Hoffman focused her community volunteer time on projects involving them and their classmates. In 2004, Lorinda added the local food bank to her volunteer projects. Lorinda began taking over administrative duties as the health of the long-term coordinator failed.
"In the five years I have volunteered regularly at FISH," says Victoria Kelsey, "I have seen for myself the energy, dedication, and effectiveness that Lorinda shows every day in keeping this very complex operation running smoothly to put much-needed food into the homes of hungry families in Hood River and Mosier."
In 2009, the FISH steering committee recognized the great work Lorinda did and made her a part-time paid employee. "A well-run food bank, efficient, thrifty, organized, supported by dedicated volunteers, is an unfortunate necessity in American towns," said Kelsey. "Lorinda deserves to be honored as a SIHR Women of Distinction for all that she does for the benefit of so many people."
n
Soroptimist of Hood River, part of Soroptimist International, is a business and professional women's service organization dedicated to improving the lives of women and girls in local communities and throughout the world.
To learn more about Soroptimist International, go to soroptimist.org. To learn more about Soroptimist International of Hood River, go to soroptimisthoodriver.com.