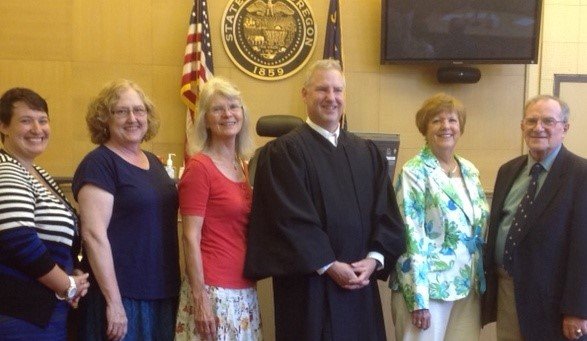 Five new advocates have joined Columbia Gorge CASA (Court Appointed Special Advocates).
Andrea Nagreen, Alison Bryan, Susan Hand, Jerry Giarraputo, all of Hood River, and Debbie Jones, from Dufur, were sworn into duty by Judge John A. Olson on July 17. These CASA volunteers join over 77,000 trained child advocates who serve more than 234,000 neglected and abused children nationwide.

CASA volunteers are appointed by judges to watch over and advocate for children in the foster care system; they make sure that they receive needed services, that timelines are met so that children don't get lost in overburdened legal and social service systems, and that they are placed in a permanent, loving home as soon as possible.
Judge Olson described the decisions that he makes in these cases as the toughest he makes; if the child left in an abusive home they might be further harmed, if they are removed from the home the child may also suffer. To make these decisions, Judge Olson relies on the comprehensive and informed information that is provided by CASA volunteers. "The bottom line" Judge Olson said "is that CASAs have a tremendous privilege and responsibility to have a positive impact on a child's case."
Columbia Gorge CASA serves Hood River, Wasco and Sherman counties; advocates serve children in care so that they might have the chance to live and develop in a safe, nurturing environment. Volunteers receive 32 hours of pre-service training using the National CASA Volunteer Training Curriculum.
n
New advocate training sessions will begin in September. If you are interested in learning more about the CASA program please contact Susan Baldwin, Advocate Manager, at 541-386-3468.