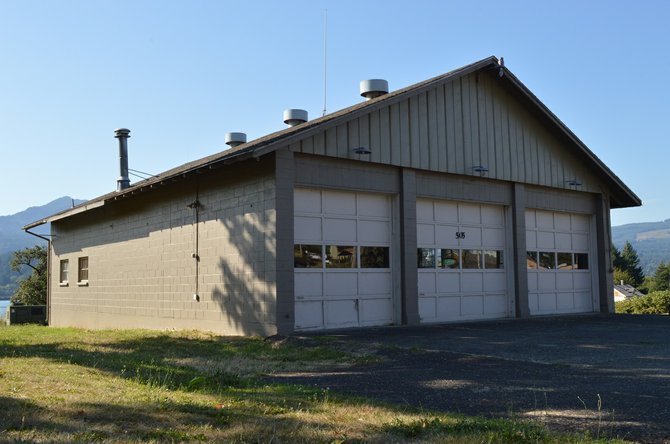 The city of Cascade Locks is making another attempt to sell the city's old fire hall, the windows of which have largely been dark since the city opened and began using its new fire hall on the east end of Wa Na Pa Street years ago.
During its Monday night meeting, the Cascade Locks City Council approved putting the building on the market, following on the heels of a unanimous recommendation made the previous week by the city's finance committee to hire a realtor to market the property at 505 N.W. Wa Na Pa St. and put a "For Sale" sign out front.
Cascade Locks City Administrator Gordon Zimmerman reported that the city is asking $150,000, which he said is the appraised value of the land. The asking price includes the sale of the land and the building, which is "not up to code," according to Zimmerman, and would require a significant investment of labor if the purchaser decided to refurbish instead of demolish the fire hall. He said the 2,000-square-foot building has a number of issues, including broken pipes, old rafters, and a frame that consists of non-reinforced cement.
Zimmerman added that depending on the future use of the building and/or land, the city may not be able to provide adequate fire flow to the property until its water system is upgraded.
"Even if we sold it today, there still would be some hurdles to overcome," he noted.
This is not the first time the city has tried to sell the building and the .29-acre parcel of commercial land it lies on. According to News archives, in 2012, the city received a purchase offer from Corbett architect Chris Williams, who intended to start a canoe and boat building business in the old fire hall, but the deal ultimately fell through.
Zimmerman said if an offer is received on the property, the Cascade Locks Planning Commission would first have to approve the use of the land and building before the sale could go through. He added that the money received from the sale of the property would be deposited into the city's electric fund, which had previously provided a loan to build the current fire hall located at the east end of Wa Na Pa Street.